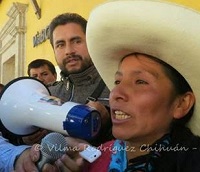 Women have historically resisted against the root causes of the climate crisis – from local, everyday efforts through to directly confronting corporations, mining companies and the governments who threaten their communities and their bodies.
En español: América Latina: La tierra y las mujeres no somos territorio de conquista ni explotación
Climate change impacts more on women. It has a direct and amplifying effect on the violence that intersects their lives, despite the fact that women have less impact on the environment than their male counterparts. Women have historically resisted against the root causes of the climate crisis – from local, everyday efforts through to directly confronting corporations, mining companies and the governments who threaten their communities and their bodies.
Such resistance is a rejection of the impacts of a patriarchal, capitalist system: war, deep poverty, social injustice, exploitation, and the forced occupation and despoliation of land and air by extractive industries and a fossil-fuel based economy.
These impacts now include climate change and its related disasters. After such disasters it is women who take on more responsibilities and work in order to survive. As Silvia Federici puts it so well: "[Women] are those who have been made to feel most responsible for the reproduction of their families. They are the ones who have to make sure that the children have food, often themselves going without it, and who make sure that the elderly or the sick are cared for." Living in areas of disaster and extractive activity doesn't only imply more work on the shoulders of women, but it also exposes them to more dangers – such as harassment, sexual violence and people trafficking.
What does it mean for women to fight back?
Margarita Aquino, a member of the Network of Women in Defence of Mother Earth in Bolivia, who is herself directly affected by mining, has said that "We women are willing to defend the land and put our bodies on the line. We can't allow that this system of extractive and patriarchal development imposes decisions on our territories, the same as decisions are imposed on our bodies."
In Latin America, where "development" so often implies such relations of aggression towards land and people, women are choosing to fight back – even if it means risking their lives – because with so much violence already around them they know they have nothing to lose. Doña Máxima lives beside Laguna Azul, near one of the largest gold mines in South America, the Yanacocha mine in Peru. The mining company has tried to violently displace locals because there is gold on their land, and Maxima has been fighting the displacement through the courts for four years, risking her life in the process. "I am poor and illiterate", she says, "but I know that our lake and mountains are a true treasure, and I will fight to stop the Conga project from destroying them."
Not all women are as directly threatened by the dynamics of an extractivist economy as Maxima or Margarita, but there are many who face, and are resisting, multiple other forms of violence under this system because of their economic, social and ethnic situations, as well as their gender.
Joining Forces in María Auxiliadora
In Bolivia, where we are struggling to deal with both violence against women and with climate change impacts, the community of María Auxiliadora provides a different kind of example of women in resistance. My photographer colleague Carey and I spent time there last year, in order to understand and document the experiences of four women living in and leading the community. The women of María Auxiliadora are fighting for a collective territory as an alternative to the commercialization of land, the crisis provoked by the capitalist development model, the violence that women experience, and the multiple and complex impacts of climate change.
This initiative came about as a result of the violence that women experience, especially those that don't own their own home – they and their children are more disadvantaged and more exposed to possible violence at the hands of their partners. So the women of María Auxiliadora instead chose to live in a collective territory, guided by certain principles: no selling or renting of homes, and no division of the property in the case of a couple separating; social control exists within the community to intervene when a woman is being assaulted; community decisions are made in assembly and people are required to work together on community tasks. On top of these the community has an environmental focus – community food-growing in urban gardens, their own water management system, and composting toilets.
Any effort to put a brake on climate change impacts and find alternatives in order not to reproduce those impacts requires true participation by women and men. Although the Bolivian Constitution contains a commitment to gender parity, in practice women have a physical presence but decisions depend upon men (from the organisation, political party or what have you). In María Auxiliadora it was decided that women should hold the most important leadership positions in the community in order to make sure that their needs are met – although it isn't easy. María Eugenia, ex-president of the community, told us: "You might think that being a leader is something important, but it is more responsibility, and it can turn bitter with problems. I am happy to participate in the struggle and I feel that people value me, but at the same time I feel hurt, I've been discriminated against. The struggle of a leader isn't easy; there are rocks in the path." These "rocks" include an increased threat of violence towards María Eugenia and her fellow-leaders: "They shouted at me because I didn't have a partner, they said I wasn't a family woman, that I'm a woman on the look-out for men, they insulted me, discriminated against me, even in front of a police officer a man punched and hit me."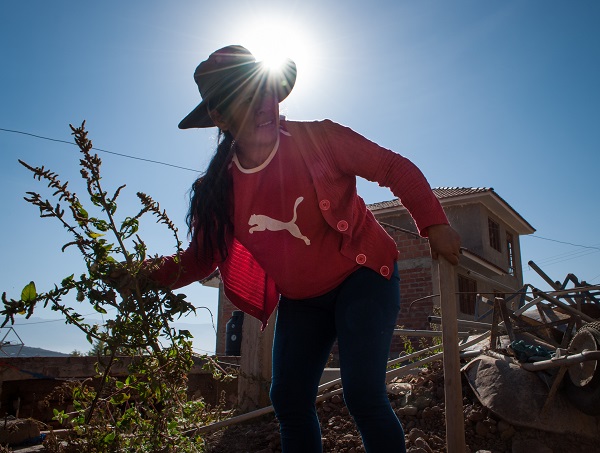 Photo: Maria Eugenia at work in her garden. Credit: Carey Averbook
The fact that a woman is busy with meetings and trips, or that she interacts with others, can incur such violence, as María Eugenia experienced: "[My ex-husband] was a selfish person, he wanted help for himself and not for others. One night I had a meeting and he locked me out because I arrived back at 10pm. As my neighbour was doing building work there was straw under her stairs and that's where I slept with the dog."
Such behaviour is indicative of very prevalent attitudes – deeply embedded into societies – which regard women as property, and available for exploitation. The struggle over the ownership, exploitation and invasion of women's bodies can be likened to the threats our earth faces from our current rapacious economic model. Similarly the violence that women in resistance (like María Eugenia) experience both inside and outside their homes, and the violence they are exposed to when they struggle for a collective territory, are two sides of the same coin.
Growing Resistance
The capitalist model of development exploits the earth and its resources in order to make huge profits for a small number of people, depriving the majority of a stake in our common wealth in the process. Urban gardens and allotments present an alternative, promoting sustainable and healthy food and farming for collective benefit. In poor, urban areas like María Auxiliadora they are increasingly important as climate change impacts drive more people to migrate to periurban areas like these. María Eugenia and the other women we spent time with in the community all grow their own food and are passionate about the added benefits and food security that their huertos provide.
The struggle for urban gardens in a collective territory, the struggle for real and active participation by women in society, the struggle against violence against women and the struggles against climate-changing extractive industry are all acts of resistance against a patriarchal system that devalues and abuses women just as it does the Earth and its resources. Women like those of María Auxiliadora, or those resisting extractivism in the global South, are the most affected by this structural violence. As the climate threat grows so do the risks women must take, but the struggles of María Eugenia and of the many women in resistance is worth the continuing battle. Being able to live in a self-organised, economically accessible territory creates the material and emotional conditions that have changed many of the women's lives. As María Eugenia concluded, "Sometimes people say the community is not worth the struggle, but I say despite everything it is worth it because here we live better than in other places."
For more information, see the Democracy Center's site: Climate Change is About…Women