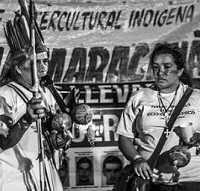 The families of the 43 Ayotzinapa students travelled as the Caravana 43 to multiple cities in the United States, Canada, several countries in Europe, Argentina, Uruguay, and Brazil to challenge the lies often reproduced about the case and to build solidarity with social movements in their own locale.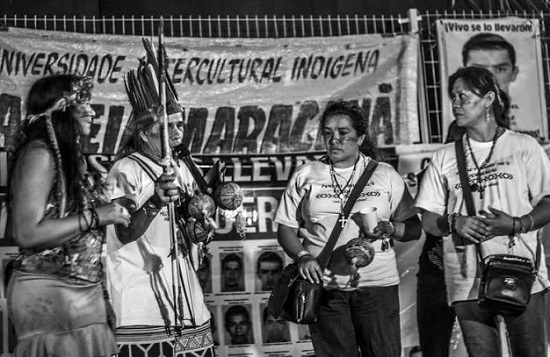 Ten months without answers. Ten months without the 43. The 43 Ayotzinapa students remain missing and the Mexican government has been unable to produce a credible investigation that gives the parents a believable conclusion. Their "historical truth" continues to be disproved and challenged by reports and investigations done by journalists, human rights investigators, and the families and friends of the 43 students. The families of the 43 students travelled as the Caravana 43 to multiple cities in the United States, Canada, several countries in Europe, Argentina, Uruguay, and Brazil to challenge the lies often reproduced about the case and to build solidarity with social movements in their own locale.
In the heart of Favela de Mare, the Caravana 43 and its participants sat in a small eatery to take a break from multiple events, press conferences and debates. After ordering, the collectives of mothers accompanying the C43 begin introducing themselves. With a hesitant confidence, one was the first to speak: "My name is Ana Paula Gomes de Oliveira," she said. "I'm the mother of Johnatha Gomes de…" as she states his name, her voice quivers and she pauses for a moment. Her eyes water and a tear begins to fall out of her left eye. She takes a deep breath and continues, "I am the mother of Johnatha, a young man, 19-years-old. He was killed by police on May 14th, 2014. He was shot multiple times in the back."

Crowded around a small table, the parents of Ayotzinapa's Caravana 43 listen intently, catching every detail of the incident. The small crowd is captured by Ana's silence, her visible pain, her voice and familiar story. Several mothers are present from multiple organizations made up of parents who have lost their children to state violence. The numbers of similar families throughout Brazil are staggering, and the violence is systematic. State violence and murders are disproportionately focused on poor, black men who live in favelas.

Ana continues to share her story. As she places the series of events in order, Ana remembers: "It was only 4:00 PM in the afternoon; I had just finished making a trifle for my mother. I asked Johnatha to take it to her. She also lives here, in Manguinhos." The despair and disbelief of a mother mourning her child's life, lost to senseless acts on due to police violence and justified in the eyes of the state is piercing, permanent and surpasses territorial boundaries.
As she ushers her son out of the house in her memory, he gives his mother a kiss and utters what would be his last words to her before walking out the door "Mom, you are too much, I can't believe you are doing this."

"How can I have imagined that was my last moment with him? " she asks us,  tears falling freely.  Johnatha was killed two hours later, as he was walking back home. He entered through a part of the favela where some children and teenagers were engaged in a scuffle with police. More often than not, it's moments like these, small incidents that quickly escalate out of proportion, that are deadly. These are the moments that have led to the systematic loss of life in Rio's Favelas.

Fatima dos Santos Pinha de Menezes, who was there during the incident, witnessed the shooting:  "It was happening very close to my house…the children began throwing rocks at police who had their rifles in hand" she says. "I saw my son in the middle of the pack. I saw] police getting ready to shoot, and I pulled him [my son] out of the way by the shirt" When she pulled her son out of the way, Johnatha was exposed and the police began shooting. In that moment "they killed the son of Ana Paula, my friend." A year before, the same officer was accused of killing three other young people. Though the officer was formally accused, the judiciary stated that there wasn't enough evidence to prove the accusations, regardless of the witness testimony.

These are the moments that are lived day to day by people that reside in Brazil's Favelas. There are constant levels of surveillance and policing, and very little accountability or oversight regarding the actions of police.
Ana Paula is now heavily involved in struggles for justice and against police violence and brutality in the favelas. She plays a key role in the Manguinhos social forum (Forum Social de Manguinhos), a space that brings together social movements and institutions to inform and defend the rights of citizens and residents of favelas. Prior to her son being killed, she was not politically active, though every time she saw a young person on the news that was was killed by police, she felt the need to do something. She would never have imagined the tragic turn of events that lead her to become involved in the struggle for human rights. Finding other mothers, other parents, other family members that have faced similar circumstances has been a crucial strategy for  these spaces and movements, which unfortunately only continue to grow due to increased police violence and criminalization.

These were the moments that were central to Ayotzinapa's Caravana 43's travels from May to June 2015. The objective of the C43 was not only to challenge the misinformation being spread by the Mexican government but also to create spaces where new knowledges can be produced and experiences of state violence and resistance could be shared.

The families and colleagues of the 43 disappeared were able to engage and meet with other communities in Brazil, Uruguay, Argentina that are facing similar issues, and learn that unfortunately, they are not alone. For Ayotzinapa, the struggle to find the 43 missing students is no longer limited to Mexico, but now includes voices from all over the world.

After being hosted in several cities throughout Argentina, Uruguay, caravan participants were invited to see the realities of Rio de Janeiro, Brazil. The events in Rio included a walk through the Favela de Mare, which is one of the largest complexes and is the only Favela currently occupied by the Brazilian Military, which moved in early 2014 in anticipation of the World Cup. This stop was particularly significant because though many are familiar with the term "Favela," it is often unclear what the everyday life looks like and what exactly are the struggles a "favelado" goes through. Meetings with the Caravana were also hosted by several indigenous groups including Munduruku, Tupinamba, Guarani communities and members of the Aldeia Maracana communities, a multi ethnic urban occupation or "re-appropriation" of a public space.

Ana's story, like those of many other mothers, fathers, brothers and sisters, is one of a pain and despair that has been transformed into a rebellious rage and hope:  Rage towards a system whose poor, black and indigenous people are being systematically swallowed by state violence, and hope that the new relationships that are being built give people the strength they need to continue demanding justice for Johnatha and all the favelados who have been killed by the state, and to continue searching for the 43 students forcibly disappeared by the Mexican Police.
Favela de Mare
As one walks into the Favela de Mare, it is difficult to avoid giving attention to the dozens of soldiers standing in the roads, every corner and spread throughout the streets of the town. The Favela has been occupied for over a year by 3,000 soldiers, the amount of money spent to pay for this occupation is equivalent to nearly 1.86 million US dollars. If you pay close attention, or if they are pointed out to you by neighbors, you can see the bullet holes in the walls and on some windows. Our hosts guided the Caravana 43 throughout the streets of the favela to give an image of the realities that this community has to face on an everyday basis. Most importantly, they allowed us to see the spaces that are not fully visible from the outside, the spaces that have been created to foster those forms of  resistance that don't always have public visibility or the media's attention.

The Centro de Cultura Popular Ypiranga de Pastinha is directed by Mestre Manoel, a well recognized teacher of the arts, music and Capoeira. He explained to Caravana members the importance that music has had in reconstructing social relations in the community and teaching kids, parents and other participants about the importance of being socially and politically conscious about what is happening in their community. There is an "ongoing effort to exterminate Afro-Brazilian culture" he says to the packed room, and described the efforts of the community center as working toward "recovering our Afro-Brazilian culture, consciousness, and resistance."
He emphasized that "All of our insights have a history, one that is not captured in the conventional history books. That's why we play, to share our history… Ours is a history that is sung… Our history sings." Capoeira is a Brazilian form of martial art that combines dance and music, but it is impossible to learn this without understanding the history of the art itself:  Historically, Capoeira was used as a tool for survival, a space where newly escaped slaves would "train" in order to defend themselves against colonial forces. This process has evolved from spaces of prohibition, to institutionalization, and to now being one of the main references and one of the largest "exports" of Brazilian culture. While fighting and martial techniques are emphasized in Capoeira teachings, Manoel reminds us that "the proposal is not to form Capoeira fighters, but to create a conscious citizenry," a citizen that is not only aware of the challenges and obstacles in their community, but has the skills and tools to consciously overcome them." 

In addition to the obstacles and limitations of systemic racism throughout the Favelas, there exists a level of violence that is not easy to escape.
One key example was displayed through caravan participants' encounter with Irone Santiago, mother of Vitor Santiago, a 29-year-old who was driving home with his friends after a soccer game when members of the military occupying their favela began shooting at the car. On February 12, 2015, Vitor was shot with a 762 assault rifle along with two others that were in the car with him, one of them an aviation sergeant . Irone's son suffered an amputation, losing his left leg and a lung. While the military initially told Irone and Vitor that the military would help them with much needed medical and economic support, she says they have not done so. No longer able to work, Vitor is need of 24-hour-care. Irone wants to see the military's initial promises realized. These are the types of demands for justice the mothers and families of victims in the favelas continue to make.

Aldeia Maracana
The Aldeia Maracanã Building has served as a space of encounter for multiple indigenous groups of Rio de Janeiro and is a central meeting house for coordinating mobilizations and cultural/political events. Historically, center  was designed to preserve indigenous culture and practices but, in the 1970's, the museum was moved to another part of the city and the original building, which sits in front of the historical Maracanã stadium was abandoned. Situated within the Maracana neighborhood, the center has witnessed the transformation of the town due to gentrification and development projects that have paralleled the transformations of the stadium. It was and is still seen by neighborhood residents as a space to be fought for and reclaimed in order to "decolonize" knowledges and other ways of seeing, thinking and being.

There have been several unsuccessful attempts to reclaim the space. In 2003, several activists attempted to occupy, or "re-appropriate" the building, but police were able to get them out before the occupiers settled inside. In 2006, indigenous groups with the support of social movement organizations occupied and settled inside the space. From 2006 to 2013, it was a known space for indigenous and non-indigenous social movement organizations. The Aldeia, or village is different from the traditional practices of an indigenous village because it is organized and supported by several indigenous ethnic groups, as opposed to a single one.

In 2012, in anticipation of the 2014 World Cup to be hosted in Brazil, the city ordered that Aldeia Maracana Building to be demolished to make room for a parking lot that was to be used by the World Cups attendees. On January 10th, police attempted to evict the occupiers, but due to the strong community relationships and networks with other social movement organizations they were able to stand their ground. 

On March 22nd of the same year, police shifted their strategy by showing up with a court order of eviction and by immediately surrounding the building cutting off any possibility for organizations or groups to support. It was a violent process of eviction. Following this eviction, people came out into the streets in solidarity but also  against the massive spending on the world cup. Those that were involved in these mobilizations say that these were critical "detonators" to the mass protests that emerged and grew in the following years.

Fernando Tupinamba, a member of Aldeia Maracana reflected on the investment to Ayotzinapas Caravana 43 by stating: "This is why we are in solidarity with Ayotzinapa. Not only do we feel the same pain of their kids being taken, but they bring a wealth of information from their practical experience. Something that has been key is the sharing of experiences. We are in solidarity with them because we know what state violence is, we've suffered it in this displacement, we have mothers in the favelas whose kids have been murdered by the state…we feel the same pain."
Reflections and Stories to Continue the Struggle
As the Caravana 43 Sudamerica was coming to a close,  the parents of the missing 43 reflected deeply on the significance and importance of engaging families and communities that are struggling against similar issues in different countries.Though they continued to find what seems as the same story of state violence (disappearances, police killings, impunity),  they understood that this exposed something deeper, something bigger than themselves. They have become central to a global movement that is not limited by borders or ideological affiliation.
Their struggles are linked by the conditions they have been forced into and the responsibility to continue without end, the search for their children and the search for justice. "As we've travelled through all these countries, we've come to realize the problems that are present here… people have told us that there are also disappearances, that there are also murders, and we feel sadness for the types of governments we have in Mexico, and in other places…In Argentina …In Uruguay, it's the same story: Displacements of indigenous groups, displacements of poor people, disappearances. Just imagine that Mexico is a mirror of South America, because the similarities basically make it the same," says Hilda Vargas, mother of Jorge Antonio Tizapa.

It is impossible to deny the harsh role the state has played in South America. In each of the countries visited, encounters with social movement organizations maintained a vibrant energy that was also heavy in experienced losses and pain. Regardless of how difficult the circumstances, there was always a glimmer of hope that allowed the energy of each space to move towards the alternatives and political proposals that are making themselves visible to parents and activists. Hilda Vargas continued to speak on her experiences with some of the organizations they met and were able to talk to. "The encounter with the 'Maes de Maio' [in Sao Paulo] was something that gave us strength as mothers because [those mothers] gave us advice regarding what we have to do. They have been in the struggle a long time and are an inspiration for us … They told us to take care of ourselves, because when we find our kids, we have to be well and healthy. But there is also a difference [between us] because, while their sons were killed, we are still looking for ours…We learned a lot. To see how others resist, to see how they struggle, it is similar, and in fact, we are going through the same things."

Hilda Vargas concluded, "with everything we've learned, we know there are many people who , regardless of their pain,  are still on their feet, and that gives us strength to continue as well…I am here because of my love for my child. I will go wherever to find him. He is the one that gives me strength to continue."

Mario Cesar Gonzalez, father of Cesar Manuel Gonzalez Hernandez, one of the 43 students  forcibly disappeared, reflected on the experience of the Caravana by saying "We feel a lot of strength given to us by the collectives and organizations that, even though they are from another country and have problems of their own,  they are mobilizing for the 43 students…What left the biggest impression on us was our conversation with the Madres de la Plaza de Mayo [in Argentina]., that even though so many years have passed, they have continued their struggle… [Overall] "We didn't expect so much affection, we didn't expect so much solidarity, we didn't expect so much history, so many stories"
"We are leaving with our hearts full of stories, and full of people, people who have received us with arms wide open. This is what we will share with our compañeros, so we can continue looking for our children."
Armando Carmona is a freelance journalist and an editor at upsidedownworld.org