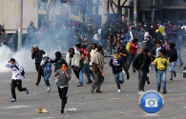 Colombian Armed Forces have brutally attacked members of the "Paro Agrario" National Farmers and Popular Strike, with at least four to five persons dead and reports of hundreds wounded. Colombia's President Juan Manuel Santos, dismissing strikers as vandals, has ordered the militarization of the capital city of Bogotá and places throughout the country, vowing to deploy 50,000 soldiers.
Source: Alliance for Global Justice
Colombian Armed Forces have brutally attacked members of the "Paro Agrario" National Farmers and Popular Strike, with at least four to five persons dead and reports of hundreds wounded. Colombia's President Juan Manuel Santos, dismissing strikers as vandals, has ordered the militarization of the capital city of Bogotá and places throughout the country, vowing to deploy 50,000 soldiers. Santos accused the popular peace movement, the Marcha Patriótica (Patriotic March) of fomenting the violence, saying, "We know the Marcha Patriótica seeks nothing but a situation without exit to impose its own agenda. The interests of the peasants don't mean anything to them, nor do regional accords: the only thing that matters is their political agenda." What Santos does not seem to understand is that the Marcha Patriótica is largely made up of peasant groups, including Colombia's largest agricultural union, FENSUAGRO. The fact that Marcha Patriótica leaders have been chosen to represent strikers, and the widespread participation in the strike itself, both expose the lie of Santos' declaration.
The national strike was called following attacks against peaceful protesters in the Catatumbo region, which set off a national movement. Demands include popular participation in the peace process, an end to Free Trade Agreements (FTAs) that threaten the livelihoods of family farmers and workers, and government fulfillment of unkept promises for infrastructure development and Peasant Reserve Zones in rural areas.
Starting around mid-afternoon on Thursday, August 29, 2013, violent crack downs on protesters were carried out by ESMAD, the Colombian riot police, in Bogotá. Eyewitnesses told us ESMAD attacked demonstrators with bricks and tear gas. Telesur reports 89 wounded in the city and in a more recent report by Ecuador's El Comercio, the number was raised to 200. Similar events were unfolding in cities and departments throughout Colombia, including Tolima, Meta, Guaviare, Antioquia and elsewhere. Radio Caracol lists five persons killed, including two in Bogotá, one in Soacha (a Bogotá suburb), one in Coyaima, Tolima, and one in Rionegro, Antioquia. FENSUAGRO reports two farmers killed and four wounded in Tolima. El Espectador also published photos documenting police attacks against journalists covering the strike in Medellin, and FENSUAGRO has informed us of attacks in Bogotá against reporters for Contagio radio.
The Alliance for Global Justice (AfGJ) is especially distressed to hear about the arrests in Tolima of Jailer Gonzalez and Maribel Oviedo, with whom we visited in both our last delegations to Colombia. Jailer is the President of ASTRACATOL, the Tolima affiliate of FENSUAGRO, and Maribel is the Educational Secretary. In 2011 the Colombian Armed Forces illegally apprehended Jailer. He was released only after a campaign of national and international pressure. In March of this year, Maribel was threatened with execution by members of the Colombian military who held her hostage in a farm house for two days. Before her cell phone was confiscated, she was able to alert community members about her situation. When we visited Maribel in April, she also credited national and international intervention for her safe release. Jailer and Maribel are husband and wife, with two daughters, one an infant. We are very concerned for the entire family during this difficult time.
I spoke to July Henriquez, a lawyer for the Lazos de Dignidad (Links of Dignity) organization who provide support for Colombian political prisoners, and for ASTRACATOL. I wanted to ask for more information about Jailer and Maribel. However, at the moment I contacted her, she was in the streets of Bogotá and told me that national strike supporters were under attack. She reported that, "At this moment we are in a critical situation in Bogotá. Since 2pm, the police have been committing abuses against the protesters from the National Farmers Strike and damaging the property of downtown residents."
An international labor activist living in the area, who asked to remain anonymous, described "…a scene of utter chaos. I was observing in the march all day. ESMAD was extremely aggressive. A lot of people were arrested. This is particularly worrying because most of the human rights organizations and lawyers are in the field in verification missions and so on….I witnessed ESMAD throwing bricks into a crowd of mostly nonviolent protestors, with representatives of the mayor's administration and the ombudsman's office dodging them. I also saw quite a few crowds of totally peaceful protestors getting gassed by mobile police units on motorcycles."
These attacks are the latest in a series of harsh actions taken by the state against growing protests around the nation. Peasant farmers are demanding the government honor agreements to protect their farms by establishing Peasant Reserve Zones and building basic infrastructure for rural areas, such as good schools, roads to get crops to market, support for crop substitution to replace coca cultivation, and basic health facilities.
We at AfGJ are especially concerned because of the targeting of FENSUAGRO, the Marcha Patriotica, and the strikers' chosen representatives in negotiations with the government. The arrest of Hubert Ballesteros was a major blow to the entire process for peace.[Click here to send an email demanding his release.] He is Vice President of FENSUAGRO and a member of the Executive Committee of the United Workers Center (CUT), Colombia's largest labor federation (which includes FENSUAGRO). Hubert is one of ten primary negotiators for the national strike. More than that, he is an adamant supporter of just peace through negotiations. I first met Hubert in 2009 when he helped organized one of AfGJ's delegations. In several discussions Hubert repeatedly told us two things that Colombians were asking of us in the United States: to end support for war and repression in Colombia; and to advocate for a peace process based on dialogue including not only the armed actors, but all the people. Hubert was arrested on August 26th and charged with "Aggravated Rebellion".
The crackdown has been difficult for the embattled ASTRACATOL union in Tolima. In May, Guillermo Cano was arrested and charged with "Rebellion". He is the Human Rights Coordinator for ASTRACATOL, and a member of the FENSUAGRO Executive Committee. He was arrested, along with eight other activists from ASTRACATOL and the Tolima Marcha Patriótica, just days after attending a United Nations forum on popular participation in the peace process. By removing ASTRACATOL's President, Human Rights Coordinator and Educational Secretary, the representation of Tolima's peasant farmers and agricultural workers is seriously compromised.
For Fensuagro nationally, it is the same situation. Since the 2011 installation of the Marcha Patriótica, there has been a spike in arrests and assaults of Fensuagro and other Marcha leaders. Aggressions against rural human rights defenders are at a ten year high, and forced displacement has risen by 83%. It is clear that the Santos Administration is trying to break Fensuagro, the Marcha Patriotica, the national strike and the entire agrarian movement.
The United States is continuing policies that encourage state violence and violations of basic human, labor and civil rights, having spent more than $8 billion on Plan Colombia, the US sponsored war plan. The US-Colombia Free Trade Agreement and active support for Colombia's integration into NATO show that the White House is less interested in peace than in rewarding displacement and brutality when it advances corporate interests. By jailing farmers, workers and peace and justice activists, the Colombian government is systematically removing those who stand in the way of further acquisitions of resources and profits for big landowners and transnational corporations.
This coming Wednesday, September 4th, 2013, is the first anniversary of the Colombian government accord with the FARC (Revolutionary Armed Forces of Colombia) that began the current peace process. It is interesting that at the same time that Santos was ordering attacks on protests around the country, that the FARC released a statement calling for a bilateral cease fire for the upcoming 2014 elections.
What you can do:
September 4th is SOLIDARITY WITH COLOMBIAN FARMER/LABOR DAY! It is also the first anniversary of the beginning of the peace process between the Colombian government and guerrillas. We are asking people to jam the Colombian Embassy and Consulates with calls demanding an end to repression of the national strike and for the immediate liberty of the unionists and peasant leaders Hubert Ballesteros, Jailer Gonzales and Maribel Oviedo. We are further urging people to contact their Representatives and ask them to act to suspend the US-Colombia Free Trade Agreement and to end all aid to Colombia until these three are freed and the repression has ended.
CALL THE COLOMBIAN EMBASSY:  202-387-8338 Fax: 202-232 8643
CLICK HERE TO CONTACT THE COLOMBIAN CONSULATE NEAREST YOU
CLICK HERE TO CONTACT YOUR REPRESENTATIVE