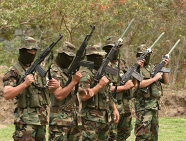 Where they have been able, Cauca's indigenous Nasa people have stood firm, campaigning to have all armed actors removed from their lands. The Indigenous Guard's July 2012 dragging of six troops from a hill in Toribío, Cauca saw images of bawling army sergeant Rodrigo Garcia beamed around the globe, however the Nasa's arrests of suspected guerrillas in the same period gained less exposure.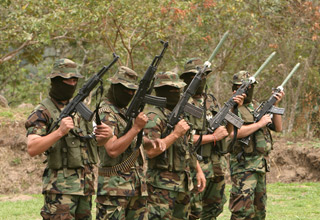 "El amor insiste el Cauca resiste" reads graffiti on a wall at Bogotá's Palace of Justice, as the days tick down to peace negotiations between the government and the Revolutionary Armed Forces of Colombia (FARC). A friend sighs and gives a weary smile when asked exactly what the statement is getting at. "It means what it means," his expression says. Nothing and everything.
An almost mythical place even by Colombian standards, mention of the southwestern department of Cauca inspires the same response from the airport lounge to Bogotá's central square. "A lot of trouble." Now, as the talks stumble on and the violence continues, Cauca – often considered the pulse of Colombia's conflict – is in sharper focus than ever, containing as it does some version of every problem being debated in Havana.
Caloto, Cauca is just a few hours from Cali, but may as well be in a different country. The atmosphere changes as the road runs south; versed in the dos and don'ts of life between armed actors, here people often talk in riddles. Some won't talk at all, at least in certain places at certain times. Much of what is said doesn't make sense until you've left.
At the headquarters of the army's 14th Mobile Brigade, however, Colonel John Mesa – showcasing army successes against FARC – is happy to cover a range of issues. This is a war the military is winning, and they're eager to show just how. Three themes dominate: drugs, the guerrillas, and a running feud with the indigenous population.
"We are here," he says, pointing to a screen as the graphics appear. "And here is El Palo."
Little El Palo has cast a big shadow over the 14th Mobile Brigade's time in the municipality of Caloto. Colonel Mesa's men eventually took it from FARC in the spring of last year, but only after hundreds of locals were displaced, three soldiers were killed, and 10 to 15 were wounded in a series of battles.
"It was a strategic town," he continues, highlighting a crossroads. "From here they took out their drugs to Caloto and Corinto. If you control this road then you control the drug route. It was untouchable for us, but now it's ours."
"Terrorists!" he exclaims as shooting erupts on-screen and the army secures the area, complete with a dramatic soundtrack and soldiers handing out sweets to local kids. The following afternoon, Captain Felipe Bonilla pulls back a tarp on a dump truck, revealing three tons of marijuana seized nearby.
"Some of the indigenous people work with narcotics," the colonel says. "They take part in the conflict. About 80 percent of the FARC has been recruited from the indigenous population."
A recent National Police report estimated that FARC – led in Cauca by its Sixth Front – oversees nine-tenths of illicit crops grown in the department. Given that Colonel Mesa claims that four-fifths of FARC's strength is drawn from the indigenous communities, for him the lines against the latter are clearly drawn, despite his numbers being forcefully rejected elsewhere.
Along the arteries linking Corinto, Caloto and Santander de Quilichao to Suárez – where FARC supreme commander Alfonso Cano was killed in an army bombing raid in November 2011 – Sixth Front graffiti is all around, and coca is grown by the side of the road in spots.
Just a dot along the way, El Palo is an eerie place; pedestrians are almost nonexistent. Yes, the town is in army hands, but motorcycles roll slowly by, one more than once. You get an intense feeling of being watched. The army's control appears tolerated more than welcomed.
At his office which makes a short triangle with the large police barracks and the army base, Caloto's indigenous mayor Jorge Arias is clearly exasperated.
"This area has a constant presence of armed groups," he says. "The state kills someone, it's because they were collaborating with the guerrillas. The guerrillas kill someone, it's because they were collaborating with the state. It's a strategy to neutralize the autonomy of the people. Any mobilization of society has been responded to with repression."
In a country in which an estimated half of 50 million people live in poverty, Cauca is among the poorest of 32 departments. With war all around, the mayor says, many desperate youths see no other option but to join a side, be it the army, the police or the guerrillas.
"We are killing amongst ourselves," he says sadly. "In Caloto we have schools where kids study under plastic covers. There are no health services. Seventy percent of people don't have potable water. Instead, we have 4,000 soldiers."
The service shortfalls lamented by Mayor Arias were supposed to be eased by the National Territorial Consolidation Plan, begun in earnest in 2006 to target vulnerable zones and bring state authority and social development to areas previously outside of the government's genuine influence.
The social element has played second fiddle to guns and bombs, however, here in north Cauca the army dominates civilian life, at least in the town centers. Locals say towns run by soldiers put civilians in a bind: To live under the nose of the army means falling under the suspicion of the guerrillas. You can't win.
"The civilian population in Caloto," Colonel Mesa insists, "if you tell them that the army is going to leave, they object. We don't only engage in the military part; we also work on projects that help the community to grow, like better roads, job opportunities. We are saying that Caloto is a safe zone and you can invest your money here."
But in its December 2012 report Consolidating "Consolidation", which studied progress on military handovers to civilian governance, the Washington Office on Latin America (WOLA) said that despite minor headway, the Consolidation Plan is now being neglected in favor of initiatives like the Victims' and Land Restitution Law, set up to return land to victims of the conflict.
There have been a few successes: in parts of the La Macarena region south of Bogotá, and the Montes de María region south of Cartagena, security is said to have neared the "steady state", which allows for greater civilian governance. Good reports have also come from southern Tolima.
However, the report goes on: "In the remaining zones – Tumaco, Bajo Cauca and Nudo de Paramillo, Cauca, Putumayo, Catatumbo – the program is simply too incipient (or insufficiently launched), and the security situation is too volatile, even to begin asking about when the armed forces can give way to civilians."
"Even in the town centers of green ['steady state'] zones, the presence of the Ministries of Health, Education, and Transportation, as well as justice system and internal control agencies, remains scarce."
WOLA feels that, "a fair estimate of US funds spent on activities in Consolidation zones is between US$500 million and US$1 billion between 2007 and 2012."
Plan Patriota – "phase two" of Plan Colombia, launched in late 2003 – saw over 18,000 soldiers hit FARC at its strongest points in the south-lying Caquetá, Guaviare, Meta, and Vaupés departments. When the smoke cleared, places like north Cauca had also seen significant army incursions, but it was soon apparent there was no real Plan B.
"The policy of territorial consolidation was supposed to administrate the conflict, but the social investment became invisible under the military investment," Mayor Arias says. "Plan Patriota and all the other plans, they've done the same – nothing."
On the bald numbers, however, these endless "plans" have done something.
Of the army's two targets – drugs and guerrillas – FARC was chopped in half to around 9,000 fighters, and the latest Cultivation Survey by the UN Office on Drugs and Crime (UNODC) says that as of 31 December 2011, total hectares covered by coca had dropped to 64,000 from a 2001 figure of 144,000.
But despite the surge south, the UN still finds that over 60% of all cultivation is being carried out in southern departments. In Cauca, cultivation has rocketed since 2004, when an estimated 1,266 hectares were in use. By December 2011 the figure was 6,066 hectares – 10% of the country's total.

As the spray planes and troops arrived – usually followed by brutal United Self-Defense Forces of Colombia (AUC) paramilitaries – coca production was dispersed. The crop was cultivated in just 12 departments in 1999, but today it's grown in at least 23. That means that 11 new departments have been visited by the terror of the drugs trade since the turn of the 2000s.
Nariño, to the south of Cauca, was home to just 3,959 hectares in 1999, but now tops the nation with an estimated 17,231 and has become one of the most dangerous departments as war has exploded between armed groups around the city of Tumaco.
In the key corridor which leads from Nariño north through Cauca to the Valle del Cauca cities Buenaventura and Cali, people are fleeing the chaos at a dizzying rate; the Consultancy on Human Rights and Displacement (CODHES) found that 19,549 people fled homes in Cauca in 2011 alone.
In the wider region FARC, the National Liberation Army (ELN), Cali Cartel offshoot the Rastrojos. and most recently the AUC successor group the Urabeños are all active, the latter two known by the government's misleading term bandas criminales or Bacrim.
Though their roots are in more northern departments Antioquia, Chocó and Cordoba, the Urabeños are now spreading south and meeting the Rastrojos on their own stomping ground. The former are the largest group among a suspected 8,000 neo-paramilitaries fighting over the territory freed up when the AUC death squads were demobilized by the government in 2006.
According to a recent bulletin from the United Nations Office for the Coordination of Humanitarian Affairs (OCHA), the November-January FARC ceasefire saw a 73% falloff in guerrilla attacks compared to the same period one year previously, but a 281% leap in displacements countrywide. Of the 5,325 displaced this time around compared with 1,379 one year before, 875 were blamed on FARC, but 2,548 on the Bacrim.
Where they have been able, Cauca's indigenous Nasa people have stood firm, campaigning to have all armed actors removed from their lands. The Indigenous Guard's July 2012 dragging of six troops from a hill in Toribío, Cauca saw images of bawling army sergeant Rodrigo Garcia beamed around the globe, however the Nasa's arrests of suspected guerrillas in the same period gained less exposure.
Near Santander de Quilichao, Nasa leader Feliciano Valencia, spokesman for the Association of Indigenous Councils of Northern Cauca (ACIN), says linking the indigenous to the rebels and the drug trade is a convenient way to discredit a group which has become "problematic." In theory they have constitutionally-recognized rights to self-regulation on millions of hectares of traditional territories, but in practice their land recuperation and legalization efforts have run counter to the interests of major players in the agriculture and exploration markets.
The National Indigenous Organization of Colombia (ONIC) says 21 indigenous leaders were killed in Colombia last year. Yet, despite FARC murdering them in their droves – as is suspected in the case of Lisandro Tenorio (67), a Nasa leader shot in the head outside his home in Caloto last summer – it is with the rebels that the indigenous are most often accused of collaborating.
"They say we are members of the guerrillas, that we're supported by the guerrillas, that the mobilizations are organized by the guerrillas," Valencia says. "They say we don't produce food in our territories but only grow coca, marijuana and poppy seeds. When we come down to the plains to recuperate what has been taken by the sugar cane companies and big producers of agro-fuels, to demand from the state that it respect our rights, the strategy of the government is to stigmatize us."
President Juan Manuel Santos has focused on economic "locomotives" such as mining, agriculture, and infrastructure, which he says will lead the country from former president Álvaro Uribe's "democratic security" towards "democratic prosperity."
Colombia's inward foreign direct investment hit $13 billion in 2011 – a 50% increase on 2010 – and $15 billion in 2012. Recent free trade deals mean this will only surge further, and Valencia feels a path is being cleared for big business at the expense of all else.
"We confront the national policies of this government which are called 'locomotives' because they are so strong and fast that they just run over everybody," he says. "We are confronting its military policy, which is a militarization in order to provide the multinationals with the conditions to take over the territories."
They tell of similar woes in the mountains high above Suárez, where Francia Márquez and Lisifrey Ararat are the public faces of one Afro-Colombian artisanal gold mining community's struggle with local and foreign mining operations, the army, the guerrillas, and the Bacrim.
Members of the Community Council of La Toma, the pair are warmly greeted by well-wishers among the huge crowd at Sunday market, in a town which some mining speculators have insisted doesn't even exist on the maps.
Law 70 of 1993 granted collective land titles and protective rights to Afro-Colombian communities in the wider region, but at La Toma locals have been forced to cling desperately to their patch since 2001, as the government handed out dozens of local mining concessions to big and small speculators inside a decade.
In what has been held up as a test case, Márquez, Ararat, and others went all the way to Colombia's Constitutional Court to halt the community's displacement from land it has worked since 1636. In December 2010, all new licenses on collective lands were suspended as they hadn't adhered to laws on prior consultation and full, informed consent, but things deteriorated rapidly once it became apparent the locals wouldn't roll over.
That same year, the area suddenly became infested with Águilas Negras neo-paramilitaries, many of whom are ex-AUC. Throughout Colombia Águilas Negras cells have shown up since 2006 to threaten and often kill anyone who stands in the way of what their crude communiqués call "economic progress." La Toma's leaders soon received their warnings – and killings followed.
"When we talk with the community elders they tell us that they have never seen anything like it," Márquez says of the upsurge in violence, which included the cold-blooded slaughter of eight miners by gunmen at nearby Alto Ovejas in April 2010.
"They rape women and they have corrupted the local authorities who have turned against the community leaders," she says of the neo-paramilitaries, adding that community efforts to work on shared problems with nearby indigenous communities have met with official resistance.
La Toma's terror mirrors the countrywide pattern which followed the mining free-for-all under President Uribe, who handed out some 7, 402,000 hectares worth of concessions in his two terms, compared with just 221,000 under his predecessor Andrés Pastrana. A vicious scramble naturally followed; mining union Sintraminercol says 80% of human rights violations in the ten years to 2011 took place in mining and energy-producing areas.
As reported by investigative website InSight Crime, a recent study by conflict analysts the Toledo International Center for Peace (CITpax) said that in eight Colombian departments including Cauca, illegal gold mining now beats coca as the main source of income for armed groups, with obvious consequences for anyone trying to eek out an honest living.
Across the country, genuine artisanal, ancestral miners say they are being tarred with the same brush as guerrillas and Bacrim – to whom many must pay extortion money – and feel their self-regulated methods are far less environmentally damaging than large-scale extraction. Nonetheless, many subsistence operations have been declared illegal.
There have been a few signs of relief: In 2011 the country's mining code was deemed invalid, and a new National Mining Agency and related bodies have been set up to undertake concession audits and overhaul regulations. A February court decision to suspend concessions on indigenous lands in Alto Andágueda, Chocó over prior consent issues was hailed as a victory.
But a summer 2012 briefing by Canadian development research group the North-South Institute opined that government efforts to look into the next steps at La Toma and other communities in the same situation have been found wanting.
"Draft regulations on prior consultation have been developed without consulting Colombia's ethnic peoples," the briefing read. "Environmental impact assessment procedures lack meaningful consideration of human rights…and field-level monitoring does not take place."
Government roundtables are being held to address such concerns, but on the ground at La Toma diggers have long been seen working contrary to court orders. Pointing out army posts along the mountains, Ararat says that since the military recently stopped miners' use of dynamite, 45 local operators have been unable to work.
"There has been no protection from the government," one local activist says, telling how major industrial players are often followed into a region by armed gangs, before asking not to be named because he has been marked for death. "The paramilitary demobilization [of 2006] was just on paper. This is the modus operandi of multinationals. They intimidate us because we are defending the territories, and they are also trying to corrupt some of our leaders."
Back in Caloto, Colonel Mesa dismisses the existence of armed groups other than FARC, at least on his brigade's turf. The guerrillas have been forced to the table, and he and his troops are on the crest of a wave. He wishes to go home to his family, he says, but is the army as a whole genuinely eager to heed the call of peace?
Hundreds of military men are being investigated and many high-profile convictions for paramilitary collusion and extrajudicial killings have been secured. Those who subscribe to the Uribe view that FARC should never have been bargained with are playing on army fears of reduced resources and increased exposure to the law should peace be achieved, even despite a much-criticized government push to expand military jurisdiction.
Combined police and army numbers now hover around the half-million mark, after tens of billions were spent on defense in the decade to 2010. Defense Minister Juan Carlos Pinzón recently announced plans to boost the army by 25,000 in the coming two years. Some $482 million in aid went from the US to Colombia last year, almost 60% of which went to the military and police. There could be a lot to lose.
Repeating the oft-heard army line, Colonel Mesa decries what he says are fake human rights defenders who are "going after money" and having innocent soldiers arrested.
Despite this, "If anyone wants peace now, it's the army," he insists. But when it is suggested that peace might eventually see the demilitarization desired by so many in Cauca, he catches himself.
"No, no," he says. "There is no forbidden territory for the Colombian army. We will never demilitarize. Even after peace."
Additional reporting by Michael Norby.