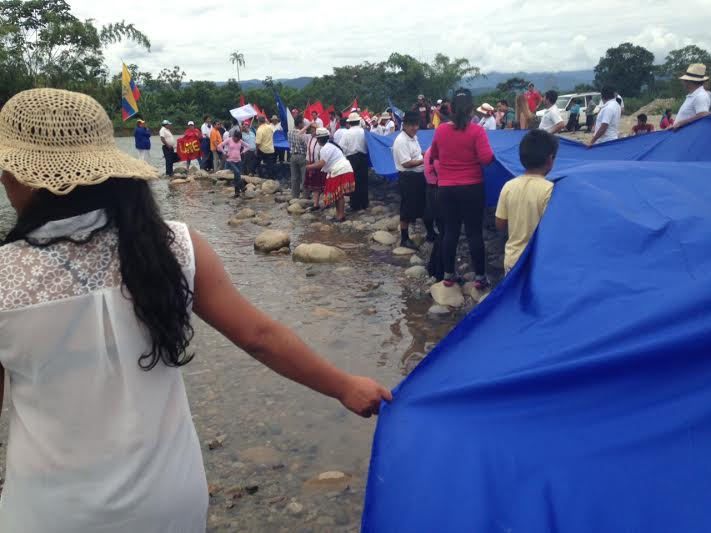 Ecuador's constitution is the only one in the world to declare water as a human right. Yet the government of this South American nation may not fully agree with its own constitutional rights.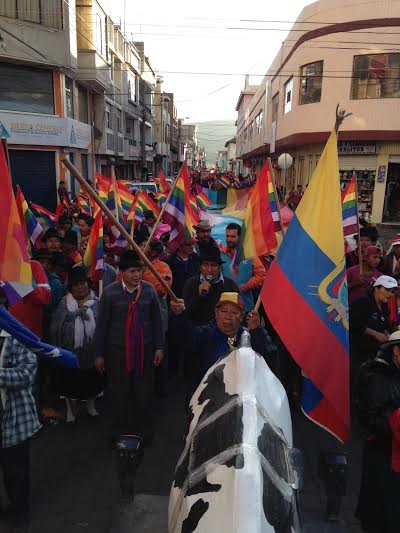 Ecuador's constitution is the only one in the world to declare water as a human right. Yet the government of this South American nation may not fully agree with its own constitutional rights.
Last month, Ecuador's government fast-tracked a new water law endorsing further privatization of water and allowing extractive activities like mining in sources of freshwater in the highlands. The controversial law was easily approved in Congress within four days given that the president's governing party Alianza País controls about two-thirds of legislative seats. In addition, the media provided very little critical coverage, presumably either by lack of interest or because of the debilitating effects of the recently-passed Organic Communication Law, such as the rise of self-censorship among media professionals working in the country.
Indigenous and social sectors, in turn, reacted with a cross-country Caminata por el Agua, La Vida, y la Libertad de los Pueblos (Walk for Water, Life, and Peoples' Freedom). The country's Indigenous movement was the core organizer of the Walk. It been demanding equal access to water for nearly two decades, organizing various marches of protest and having various leaders arrested. Other sectors also joined in disapproval of a government increasingly perceived as anti-democratic. The result was the alliance of nearly 20 organizations in a Front of Resistance that set off to walk from the Amazon lowlands to Quito. It was the second large mobilization to defend water rights against extractive industries. This time, the Walk was less impressive in numbers then prior ones. However, it was a broader coalition than before, and unlike previous times, it called for civil disobedience against a state that regularly ignores constitutional rights.
Walking for Water
The Caminata por el Agua started June 21 in the Amazon province of Zamora Chinchipe, where Ecuador's first mega-mining project is planned to open in the hills of Condor Mirador. About 100 participants walked (and at times drove) some 600 miles on a 12-day journey towards Quito, Ecuador's capital in the highlands. They were teenagers as young as 14-years-old who covered the entire trip; a woman in her late 60s who walked in sandals regardless of the weather. There were lawyers and peasants, local elected representatives, union leaders, and journalists. Over one-third of them were Amazonian from the Zamora region. The most famous noticeable marcher was perhaps Salvador Quishpe, the vocal governor of Zamora Chinchipe, who has publicly confronted national policies as unconstitutional.
Many more people joined the Walk irregularly for shorter distances. The organizers counted over 1,000 people when it reached Cuenca's central plaza; thousands of Cañari peasants took the roads to support demands for water rights as the Walk crossed their province. The Catholic Church joined as well. In Zamora, Tarqui, and Cuenca, churches opened their doors to those marching and held messes in defense of water rights.
Activists paraded a 25 meters-long blue flag with the words "we are water" through roads and city centers. They chanted that water should be defended, not sold out to corporations, with slogans like "go away Chinese mining," "down with the socialism of the twenty-first century," and "this is not paid, this is an organized society" (esto no es pagado, es pueblo organizado).  The political protest counted with the guitar songs of Cayambe activist Rosa Lanchimba, who revamped traditional songs into water demands, and the Amazon rap composer Jota Al Cuadrado, who used his mic to reveal an artificial socialism that encourages extractivism. Carlos Perez Guartambel, the president of the Indigenous highlands organization ECUARUNARI, played his saxophone all the way to Quito.
The Caminata was a last-minute, collective effort that strived on solidarity. Bystanders offered food supplies like potatoes, oranges, and even a live cock (which became a mascot). Villagers welcomed participants with pampamesas, the Andean form of sharing food on a long stretch of fabric in open fields. Villagers opened their communal houses to provide whatever shelter was available. Twice pastoral organizations hosted the march.
Zamora Councilmembers secured a portable kitchen, which fed the entire crowd at least twice a day. Men joined the women and rolled up their sleeves to peel potatoes and cook in the night. It was a hard journey, yet filled with unforgettable moments. Villagers too joined, sharing their food and hands to help. In the cold foothills of Chimborazo, an eight-year-old joined the kitchen team and taught them all to peel potatoes at the speed of light while singing love songs.
The most chilling part of the journey was not the lack of running water or the cold nights on concrete floors. It was the constant police surveillance.
Police harassment set the tone from the start. Since Zamora, police blockades tried to stop the Walk, often delaying it between an hour and a half a day. Police forces permanently followed and photographed participants as a mean of intimidation. Traffic officers required special authorizations or commercial permits for carrying participants in buses. Interactions with the police varied from jovial to violent. One day, civil police squeezed in with protesters in a small store to watch their soccer team play its last World Cup game. The next day, special forces threatened to disperse crowds with tear gas. At times, cordial police officers blocked intersections to facilitate the passing of the caravan making it feel like a presidential escort. Other times, captains who had violently arrested water activists in the past immobilized the caravan for hours without legal justification.
Demands Beyond Water: Higher Education, Union Rights and Electoral Rule
The cross-country protest for water rights was less overwhelming in numbers than other marches. Yet the breadth of the current coalition merits political attention. The Caminata included powerful Indigenous organizations like the Confederation of Peoples of Kichwa Nationality (ECUARUNARI), the Confederation of Indigenous Nationalities of Ecuador (CONAIE), and their political branch Pachakutik. Those are the predictable participants, those who have always claimed the redistribution of water rights.
The protest also included more sectors with demands beyond water. Communal organizations asked for the payment of the agrarian debt, peasant welfare and the re-establishment of bilingual education. The National Federation of Secondary Students denounced entry requirements that impeded hundreds of thousands of students from attending university. There were labor unions and teachers organizations concerned with laws forbidding workers to unionize (one of the five criteria for decent work according to the International Labor Organization). Medical doctors demanded the decriminalization of malpractice; the families of political prisoners like Cléver Jiménez called for the respect of decisions issued by the Inter-American Court of Human Rights.
There were some demands that created a stronger consensus. The end of subsidies to cooking gas was one o them. Another was the outcry against the continuous criminalization of social protest. In fact, the protest passed by jails and some leaders visited political prisoners along the way. More importantly, all sectors unanimously rejected the proposed law on 'indefinite reelection' that could potentially keep the president in office for a long, long run. This law is part of seventeen constitutional amendments the president has presented to Congress and which are expected to be approved before the next elections.
Redefining Nature's Rights
Resource conflicts are spreading throughout Latin America. Water conflicts are not unique to Ecuador. The world witnessed the outbreak of a water war in Bolivia in 2000. This year, thousands of peoples from over 70 organizations mobilized in a national march for the recovery and defense of water in Chile, while Mexican residents recently clashed with the police to defend their access to freshwater.
The irony in the Ecuadoran case is that its 2008 constitution was internationally acclaimed for declaring water a human right. The constitution that established the rights of nature is being bypassed by the very government that created it. In this process, it is not only laws that are losing their meaning as the government grant deals to Chinese extractivism in important ecosystems. It is democracy at large that is becoming a theory without practical implementation.
Today's water law is an offspring of the 2008 Constitution. It has been heavily contested by Indigenous sectors seeking to protect traditional systems of water management against further privatization for the agribusiness and mining industries. Part of the problem is the large inequality in access to water. Indigenous leader Perez Guartambel claims that Ecuador's wealthiest one percent controls 64 percent of freshwater.
Indigenous mobilizations hoped to influence the law in two ways. First, water defenders wanted to ban extractive activities like mega-mining in water sources. Second, they wanted a Plurinational Council on Water to secure Indigenous participation in decision-making processes.
Both demands fell upon deaf ears. The law permits mining in freshwater sources and the Plurinational Council is rather decorative, having a voice but no vote. The beautiful Article 6 forbids all forms of privatization. Yet Article 7 follows, 'exceptionally' authorizing private initiative in the cases of a) state of exception, b) state of emergency, and c) when local authorities have insufficient technical or financial means. The state has full control over the privatization of water resources. Indigenous and peasant communities, in turn, will easily be labeled as technically or financially inept to control their water systems.
It is not only constitutional human rights to water that are being high jacked. According to the new law, the state is considered the exclusive competent authority to control hydric resources (Article 1) and guarantees the rights of nature (Article 3). This means that the rights are nature and decided solely and exclusively by the state.
Social sectors seem to disagree that the state is nature's best care-taker. Upon arriving in Quito, the Walk created a Peoples' Parliament to defend constitutional rights against a Congress increasingly willing to bypass them. Their's was a call to civil disobedience.

The Front of Resistance ended the cross country Walk with a People's Parliament in Quito. Their goal was to create a new political assembly to restore the political legitimacy they believe has been lost in Congress. As the elderly Indigenous leader Nina Pacari read the Parliament's declaration, she reminded the audience that this march did not end or start during that week. The call for water echoes a much larger, collective desire for equal redistribution and shared responsibility that is transmitted across generations.
Manuela Picq is a Member of the Institute for Advanced Study, Princeton and Professor at Universidad San Francisco de Quito, Ecuador.