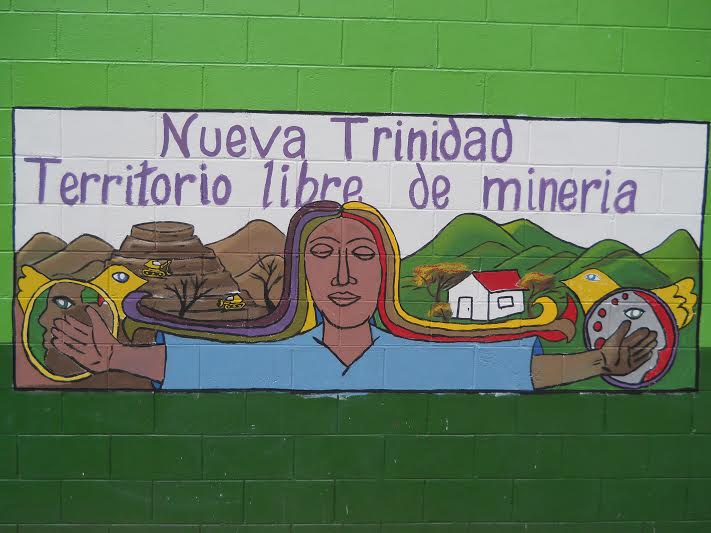 In a process of grassroots democracy and popular community engagement, Nueva Trinidad joined its neighboring towns of San Jose Las Flores and San Isidro Labrador in rejecting the presence of mining exploration and exploitation in their territories.
Nueva Trinidad, an agricultural town in the department of Chalatenango in El Salvador, became the third municipality in the country to declare itself a "Territory Free of Mining" after having a historic popular community consultation on March 29.
In a process of grassroots democracy and popular community engagement, Nueva Trinidad joined its neighboring towns of San Jose Las Flores and San Isidro Labrador in rejecting the presence of mining exploration and exploitation in their territories. The former guerrilla stronghold in North Chalatenango has fought to prevent mining projects in their territories for over a decade, often resorting to road blocks, marches, and political graffiti to declare its opposition to mining.
This important landmark decision in El Salvador follows several community consultations that have occurred in Central America, such as in the municipality of Santo Domingo in Honduras and the municipality of Mataquescuintla in Guatemala. International observers from Honduras, Guatemala, and Nicaragua, joined in this historical democratic process to provide insight and support to the community consultation, as well as to learn about community consultations and its applicability in other national contexts.
The community consultation ended with 99.25 percent of voters voting NO to mining in their territory, with a voter turnout of 61.85 percent. This popular vote will be used to create a municipal bylaw in Nueva Trinidad to ban all permits for metallic mining exploration and exploitation in the municipality. Municipal code in El Salvador dictates that a  municipality requires a minimum of 40 percent minimum voter turnout  rate in order for a community consultation to be legally standing in municipal law.
"This popular consultation is important for us to say no to mining, since we are a community with a big social conscious and knowledgeable about the effects of exploration and exploitation of mining; because having mining projects means that we must relocated in a location where we loose the security that we have here, as well as contamination [of the environment]," Julio Rivera, a community leader in Nueva Trinidad, told Gato Encerrado reporters.
Community members of Nueva Trinidad were assisted with technical support from the National Roundtable against Metallic Mining in El Salvador (La Mesa), and other civil society organizations such as Association for the Development of El Salvador (CRIPDES) and the Association of Communities for the Development of Chalatenango (CCR). Months prior to the consultations, organizers from the municipality and civil society organizations mobilized an educational campaign, using general assemblies, banners, and house visits to educate the population on the popular consultation and the effects of mining.
Sister Cities, a US-based partnership organization that works in solidarity with communities in El Salvador, coordinated 24 international observers from the United States, Canada, Guatemala, Honduras, and Nicaragua to give international legitimacy to this process. National observers gave logistical and legal support for the community consultation; participants included the Assistant Counsel for the Protection of Human Rights (PDDH), as well as the mayors from San Jose Las Flores and Arcatao.
Mining and Community Consultations in Chalatenango
There are currently 10 municipalities in Chalatenango with mining concessions. This is a concern for local residents and civil society as it threatens the water quality of the Lempa River and Sumpul River, both which provide access to clean water for the Salvadoran population. The Lempa River alone provides fresh water for 50 percent of the population of San Salvador, and 60 percent of fresh water to the rest of the population of El Salvador.
The Salvadoran national government has passed a moratorium on mining, preventing further mining concessions from being implemented in the country. Currently, there are two lawsuits against El Salvador for denying an exploitation permit to two corporations; Pacific Rim, now Oceana Gold, and the Commerce Group. Oceana Gold is currently suing El Salvador for $301 million in a World Bank arbitration tribunal.
As the Salvadoran government has yet to approve an official mining ban in El Salvador, civil society organizations have opted for a sustained campaign to pressure for laws that prohibit large-scale mining. Community consultations have fallen under this strategy, and the results from the consultations will be used to pass municipal bylaws to ban mining projects and as legal court documents in the case of a lawsuit against the country.
San Jose Las Flores became the first community to do a consultation against mining in August 2014. Community leaders coordinated an educational campaign about the community consultation by organizing community assemblies and training 150 organizers to make house visits to teach the population about popular consultations. Since some residents of the municipalities have received little schooling in their lifetimes, some of these house visits also entailed teaching residents how to vote, explaining the wording of the ballot, and discussing the issue of mining in the community.
Nueva Trinidad Heroico
The township of Nueva Trinidad and its surrounding neighboring municipalities were abandoned by its residents in 1980s when the U.S.-backed Salvadoran military began bombing campaigns that sought to crush support for the left-wing FMLN guerrillas in the region. Many residents fled to San Salvador and Honduras during this period to refugee camps, and some residents joined the FMLN guerrillas to fight government military forces.
Nueva Trinidad was repopulated in 1992, as residents came back to their villages and houses against government wishes. Civil society organizations, such as CRIPDES, and partnership organizations such as Sister Cities, have accompanied these communities for years, walking with them and supporting their residents.
Throughout the 1990s and the early 2000s, the municipality was governed by the right-wing ARENA party. When the FMLN finally won power in the later 2000s, Nueva Trinidad witnessed a new relationship with the municipal government, with campesino leaders taking leadership roles in the town councils and mayoral offices. Currently, the municipality is a FMLN strong hold, and the municipality and town councils have been supportive and given logistical support to the formation of popular consultations to vote NO to mining in the region.
Resources:
http://www.diariocolatino.com/poblacion-de-nueva-trinidad-decide-vivir-en-territorio-libre-de-mineria/
http://www.hablaelsalvador.com/articles/14995-tercer-municipio-declarado-libre-de-mineria
http://www.transparenciaactiva.gob.sv/nueva-trinidad-dice-no-a-la-mineria-en-consulta-ciudadana/
http://www.share-elsalvador.org/our-work/community-development-projects/ccr
http://elsalvadortrespuntocero.com/nueva-trinidad-es-el-tercer-municipio-de-el-salvador-que-dice-no-a-la-mineria/

http://www.amazon.com/gp/offer-listing/0813525268/ref=tmm_pap_used_olp_0?ie=UTF8&condition=used&sr=&qid=