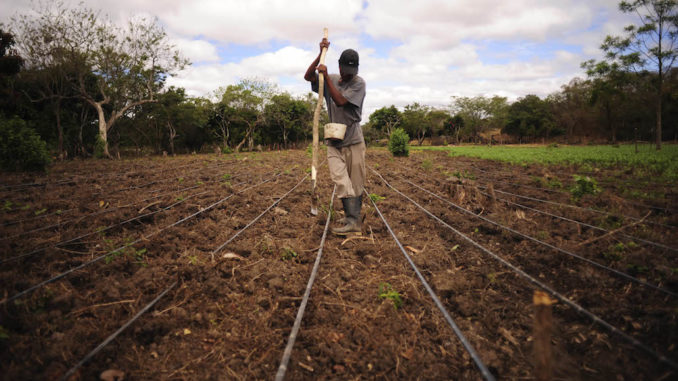 The following is an excerpt of "Storming the Wall: Climate Change, Migration, and Homeland Security," City Lights Open Media (September 2017).
In May 2015, many farmers throughout Central America sowed their seeds expecting rain that never came. It used to rain from May to November. People would take advantage of the first rains to plant corn, beans, and rice. In 2015 their seeds dried up in a drought that affected more than a million farmers spanning four countries — Guatemala, Honduras, El Salvador, and Nicaragua — in the Central American "Dry Corridor." Eleuterio Flores, one of the 400,000 farmers nailed by the drought in Honduras, told Agence France Press, "There is nothing to eat, the harvests are completely lost." According to the Central American Agricultural Council, there was a loss of 80 percent of bean crops and 60 percent of corn. Where Flores lived, the small town of Texiguat, Honduras (population 12,000), 80 percent of the people live in acute poverty, 4 percent more than the national average; 54 percent of the people in Honduras live in severe poverty.
As 16-year-old Lesly Vasquez came to pick up a food packet that the Honduran government was distributing to the 82,000 families slammed by drought, she told AFP, "We're here so somebody can help us, we have nothing to eat." The 16-pound bags of corn flower, manteca (lard), pasta, coffee, reminded me of the 100-pound sacks of rice I had seen distributed to typhoon survivors in the Philippines. "We're facing an unprecedented calamity," said the mayor of Texiguat, Lindolfo Campos.
Climate scientist Chris Castro told me that the Central American northern triangle, right where Texiguat is located, is "ground zero" for global warming's impact in the Americas. One thing that is happening, according to Castro, is an "intensification of the mid-summer dry period." The canícula—the farmers' term for a "dip" in rain- fall during the months of July and August, has intensified, "and that is critical for agricultural activities there, partic- ularly for subsistence farmers." According to the regionalized climate model Castro is using in Central America, the canícula is only predicted to get hotter and drier and could be devastating to agriculture and ecosystems attuned to the seasonal cycles of precipitation.
"You might have threshold points where forests dry out, so they are more susceptible to fire, or where you reach drought conditions so that you can't plant certain crops, or they affect water supplies, or you have precipitation extremes that exceed design parameters for a system, then translate that to a population" in vulnerable socioeconomic conditions, whose "livliehoods are tied to the ability to interface with the the natural environment."
As Castro put it, "It's a paradigm of the wet gets wetter, the dry gets drier, the rich get richer, the poor get poorer. Everything gets more extreme."
In 2010, the American Security Project (of Brigadier General Stephen Cheney) issued a Latin America threat forecast in a report titled "Climate Change and Immigration: Warnings for America's Southern Border" in 2010. Like the Department of Homeland Security's 2014 Quadrennial Report, the 2010 assessment foresaw the future of the three men at the rails in Tenosique: the heatwaves, flooding, drought, and superstorms impacting what the government analysts called "impoverished and politically unstable communities." The pressure on "our southern neighbors to reach friendlier environments in the United States will grow stronger." There will be storms, soil erosion, run-off, and food shortages. Millions of people will be affected as coastal areas flood, particularly on Caribbean islands, which, they write, are in jeopardy of being swallowed by the sea, "both partially and completely."
There will be an "environment ripe for migration." And if that were not enough, even "more problematic," according to author Lindsey Ross, are the "special interest aliens" that could be "potential terrorists from countries that are home to known networks."
Indeed, as predictions of increasing numbers of climate refugees fill forecasts, the United States isn't planning to extend them any special status; rather, as the report stated, "climate migrants will place an additional burden on communities along the U.S. southern border. . . ."
For the past 15 years Todd Miller has researched, written about, and worked on immigration and border issues from both sides of the U.S. Mexico divide for organizations such as BorderLinks, Witness for Peace, and NACLA. He did the brunt of this work in Tucson, Arizona and Oaxaca, Mexico, with stints in New York City sprinkled in. Between Tucson and the Buffalo/Niagara Falls region of New York state where he grew up, he has spent the majority of his life close to the U.S. international boundary, south and north. He is the author of Border Patrol Nation (City Lights, 2014), his writings about the border have appeared in the New York Times, TomDispatch, Mother Jones, The Nation, Al Jazeera English, and Salon among other places.
Copyright © 2017 by Todd Miller. Re-printed with permission from City Lights Books.