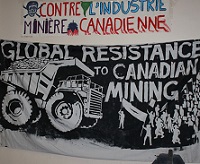 Guilty of human rights abuses. That was the verdict for Canadian mining companies, after two days of in-depth testimony presented in Montreal, Quebec, to a jury of eight experts from around the world.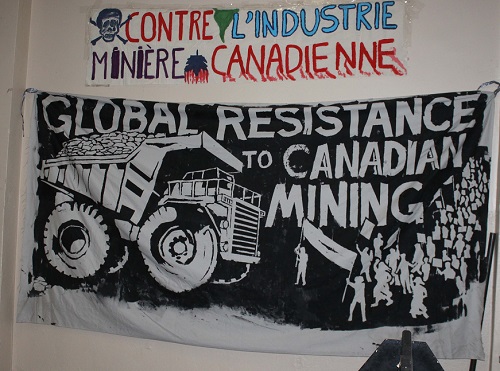 Guilty of human rights abuses. That was the verdict for Canadian mining companies, after two days of in-depth testimony presented in Montreal, Quebec, to a jury of eight experts from around the world.
The Montreal session of The Permanent People's Tribunal, held from May 30 to June 1, continued a long history of civil society tribunals that started in Italy in 1979. The mandate of the sessions is to examine situations where "legal systems are unable to guarantee universal and effective respect for human rights." This particular Tribunal will span two years, with the Latin America session being the first of its regional focuses. The session heard activist testimony from Chile, Honduras, Guatemala, Ecuador and Mexico as well as from Canadian civil society groups.
So why Montreal?
Canada is home to over 75% of all registered mining companies and in recent years there has been a concerted push by industry and government to further entrench Canadian mining operations at home and globally. The tribunal helped challenge the PR spin of these companies, and also highlighted the Canadian government's role in supporting them financially, judicially and politically.
Mining Company Charges
An adult education facility by the Lachine canal was transformed into a media hub for the tribunal complete with simultaneous translation into English, Spanish and French, a live stream of the proceedings on Concordia University's website CUTV, ongoing radio and television interviews and rows of people busily working on laptops. In addition to the Latin American witnesses there were approximately 80 attendees comprised mostly of people from eastern Canada and nearby U.S. states. To counter the sombre, often infuriating testimony, the organizers held a cultural event with music and dancing after the second day of testimony.
The first day heard charges against specific Canadian mining companies. These charges were grouped into three categories: the right to a healthy environment, the right to self determination and the right to full citizenship. Quebec educator Paul Cliche, acting as the prosecutor, explained that the cases being represented should be understood as "emblematic" and mere "examples of systemic issues" in the practices and governance of mining operations.
Among those testifying about health and environmental concerns was Pedro Landa, the Coordinator of the Human and Environmental Rights program at the Honduran Center for the Promotion of Community Development (CEHPRODEC), along with Carlos Amador, a member of the Environmental Committee of the Valle de Siria in Honduras. They described how Goldcorp's San Martin mine (which has been closed since 2008) continues to cause dire health problems for surrounding communities due to water contamination. Amador explained that Goldcorp's mine is "destroying the dignity of our towns."
Oscar Morales, coordinator of the Committee in Defense of Life and Peace, provided testimony and pages of evidence outlining the numerous "consultas" (traditional public opinion polls) that have unanimously rejected mining in his area of Guatemala. Mining companies such as Tahoe Resources with their Escobal mine, have continued to operate without community approval, a direct violation of the right to free, prior and informed consent.
Lina Solano Ortiz, founder of the Front of Women Defenders of Pachamama, Ecuador, discussed the "masculinisation" of communities around mine sites. She outlined the changing dynamic of many women's lives when a mine opens and noted that, "food sovereignty is sustained largely by women [but] when the economy shifts from agriculture and animal husbandry to mining, they become more dependent on men to support the families." This subservient role may also lead to prostitution as groups of mainly single male mine workers move into small communities. Rising inequality has a disenfranchising effect on women both economically and politically.
From Mexico, Dante Lopez and Juan Rodriguez spoke of unsafe working conditions and union busting activities at the La Platosa mine run by Excellon Resources and Jose Luis Abarca discussed the social conflict and repression surrounding Blackfire Exploration's Payback mine, which culminated in the assassination of his father, Mariano Abarca.
State Actions
Many of the companies accused of human rights abuses during the hearings also have contested mines in other parts of the world. In order to acknowledge the similarities between the practices of various companies, the Tribunal dedicated the second day to examining the role of government in permitting the global spread of mining companies. Their goal was to answer the question, "How is Canada supporting the expansion of the global mining industry?"
The charges against the Canadian state included interference in the legislative process, financial support and gaps in access to justice. From the testimonies, it became clear that the host states were also at fault. Thus, the jury found that both Canadian and Latin American states are guilty, saying that they have, "by act and omission … failed in their obligation to protect human rights and to prevent and sanction violations, particularly those related to Canadian mining companies."
Nancy Yañez, a lawyer and professor at the University of Chile, gave testimony on how free trade agreements are overriding the rights of indigenous peoples as enshrined in international treaties such as the UN's International Labour Organization convention 169 (ILO 169). As she noted, "The right to self determination is fundamental to allow all other rights. But this is being limited by international agreements." The result is a privileging of economic rights over democratic rights. [Ryan: I thought this was better as a paraphrase but you might disagree.]
Pedro Landa described specific government actions in recent years. He believes that the Canadian government required Honduras to change its laws on mining before the recent Canada/Honduras free trade agreement was finalized. Due to public outcry, there had been a moratorium on metallic mining in place since 2006 but the new mining law allows open pit mining such as Goldcorp's San Martin mine to resume.
The state's unwavering financial support through government corporations such as Export Development Canada and the Canada Pension Plan, as well as the negligible supervision of the financial markets, have provided loans, insurance and a source of equity that are not contingent on a company's adherence to internationally agreed upon best practices. These financial structures led Quebec professor and author Alain Deneault to describe Canada as being the "haven of choice for the world's mining industries."
Those "gaps in access to justice" also prevent individuals or communities outside of Canada from laying charges against mining companies. Osgoode Hall Law School professor Shin Imai argued that these cases should be heard in the company's home country rather than the host country. However, Imai went on to explain the two main obstacles to bringing a case to court in Canada: the enormous costs and the fact that "none of [the large law firms] can touch any of the cases because they have mining clients." This leaves small firms that focus on social justice to take on the cases for distant plaintiffs.
The Verdict
After two days of testimonies, the jury members delivered their verdict and found the following companies guilty of human rights abuses:
Barrick Gold and its subsidiary Nevada Spa Mining
Goldcorp and its subsidiary Entre Mares
Tahoe Resources and its subsidiary Minera San Rafael
S.A., Blackfire Exploration and its subsidiary Blackfire Exploration México S.A. de C.V.
Excellon Resources Inc. and its subsidiary Excellon de México S.A. de C.V.
The jury included Maude Barlow, National Chairperson of the Council of Canadians, Mireille Fanon-Mendès-France, President of the Frantz Fanon Foundation in France, Viviane Michel, former Director of the Innu Nation of Quebec Native Women, Javier Mujica Petit, author and President of the Center for Public Policy and Human Rights in Peru and Gianni Tognoni, the Secretary General of the Permanent Peoples' Tribunal.
The jury also found that "The Canadian state and the countries in which these companies are operating are also at fault for not having prevented and for having facilitated, tolerated or covered up these human rights violations." However, the jury was careful to reaffirm that "Canadian mining expansion in Latin America would not have been possible without the promotion and direct involvement of the Canadian state."
Although this session of the Montreal Permanent People's Tribunal was only dedicated to Latin America, the resounding guilty verdict, and the round of applause that followed, is a clear message of Canadian disapproval. Concurrently, the rise of land defense movements such as Idle No More and anti-pipeline groups, as well as organizations calling for divestment from mining companies is turning an increasingly critical eye on the industry and state. Just as Barrick Gold, once one of the world's largest gold companies, has recently lost some of its sheen and been forced to restructure, so too is the status quo within Canada being challenged from at home and abroad.