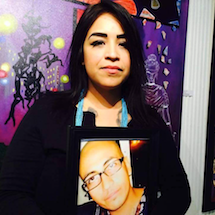 In 2013, Francisco Javier Cisneros Torres was forcibly taken from his home in Tala, Jalisco. Since then, his sister Nansi Cisneros of Los Angeles, California, has built new initiatives to bring together other families who are also searching for loved ones. For her, this is an important step to building cross-border momentum to demand an end to human rights abuses in Mexico.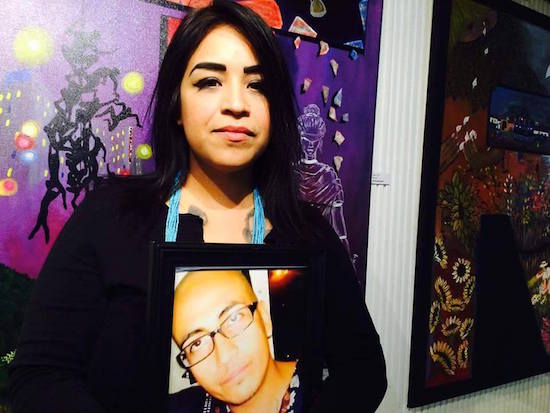 Photo Credit: Dorian Merina
For Nansi Cisneros, an overnight flight to her family's hometown in central Mexico marked the beginning of a cross-border search of her missing brother. When she found out armed men had taken her younger brother Francisco Javier Cisneros Torres from his home in Tala, Jalisco, she drove to the border to board the first flight out of Tijuana. She traveled 1,500 miles and arrived to her brother's house a few hours later, where shell casings and blood still soaked the living room floor.
Cisneros's younger brother Javi, a tattoo artist who grew up with her in L.A., was deported in 2007. Six years later, several men in bulletproof vests brandishing shotguns arrived in a white car and entered his home where he was hanging out with friends, and dragged him into their car. Distraught, his mother, who lives only six houses down, witnessed everything and tried to run after the car. He was forcibly disappeared on October 19, 2013. They haven't seen him since.
Desperate for help, the family approached local police who brushed them off saying they were overburdened with other investigations. The State Prosecutor's Office in Jalisco was also unhelpful. Although they opened an investigation regarding Javi's disappearance, it took them two years to share developments in the case. Last October the office informed the family that they had found a body that could be Javi and that testing would be done. However, the case stalled and the family has yet to  receive any updates.
When their pleas for help were met with cruel indifference, Cisneros took it upon herself to find her brother. For over two years now she has traveled to Mexico to meet fellow activists and has taught herself how to conduct DNA testing, better understand human right laws, and build relationships with families, activists, and civil society organizations that also seek justice for disappeared persons. In her desperate search for Javi, the Los Angeles born-activist has forged relationships with activists on both sides of the border and has become a staunch critic of corruption, state violence and the U.S.-funded war on drugs.
Last summer, Cisneros traveled to Mexico City to join the School of the Americas Watch, a U.S. activist organization that monitors human rights and U.S. foreign policy in Latin America. She shared her personal story with U.S. and Mexican activists and joined conversations on how to support and extend the demand for justice for Mexico's disappeared globally.
She also participated in the #USTired2 protests last year organized in 54 U.S. cities that demanded an end to U.S. security funding, known as the Merida Initiative, cited as responsible for financing military and human rights abuses like disappearances in Mexico.
In Los Angeles, where Cisneros was born and raised, she has built new initiatives to bring together other families who are also searching. Cisneros has linked up with local activists to organize Bordamos Por La Paz, an artivist gathering that began in Mexico City in 2011 and brings together dozens every second Sunday in L.A.'s MacArthur Park. Started last year, the gathering brings together families who embroider the names of their missing loved ones in fabric, share updates on cases, and honor the disappeared. Through organizing Cisneros has met around 15 families in L.A. who are also searching for missing loved ones.
In a city where street food and music culture is often indistinguishable from Mexican cities like Juarez and Mexico City, families in L.A. are also being affected by Mexico's violence. Conversations around missing relatives and violence ravaging small hometowns are examples of the far-reaching influence the drug war and corruption on communities In Los Angeles.
For Cisneros, organizing in L.A. is an important step to building cross-border momentum to demand an end to human rights abuses in Mexico. "I found out really quick that we were all victims, not just us, the direct victims of the Drug War but everyone, including those who had never been directly affected," says Cisneros. "What I want from our Mexican compatriots and allies here in the U.S. is help to end this so called War on Drugs that has only successfully disappeared and murdered thousands of our youth throughout Mexico."
For Cisneros, justice also means putting an end to the U.S. security package known as the Merida Initiative. Through the Merida Initiative the U.S. has invested more than $2 billion since 2006 to militarize Mexico under the pretext of fighting drug cartels. It has thus funded the security forces largely responsible for human rights abuses. Instead of mitigating violence, it has heightened it to unbearable levels.
"We need to pressure our government to acknowledge that Mexican government officials, military, police are participating in human rights violations everyday all over the country and that those who are questioning them are being murdered or imprisoned," says Cisneros.
Her sharp critique of U.S. foreign policy compliments her resolve to continue organizing on the ground. In the coming months, Cisneros plans to continue to host the Bordamos por La Paz reunions in Los Angeles and is planning to organize it during the CicLAvia in the San Fernando Valley during the first week of March. She also plans to continue collaborating with the School of the Americas Watch on a series of events in Los Angeles focused on forced migration, the refugee crisis, and enforced disappearances. Together they plan to host a Concert Against War, Drugs, And Corruption in Centro Cultural Centroamericano on February 19. She also plans to host an art awareness presentation with Bordamos Por La Paz in an L.A. gallery.
Her plans for travel to Mexico include a trip to Mexico City with her family to join artist Alfredo Lopez Casanova's art show dedicated to Mexico's disappeared, "Siguiendo Tus Huellas", in the Museo de la Memoria Indomita. She also plans to travel to Jalisco to work with graffiti artists for an homage to disappeared persons and also join families in physical searches for their loved ones.
When asked if she is ever afraid to travel to Mexico or organize for the safe return of her brother, Cisneros expresses courage and determination to keep searching. "I have to find Javi, I have no choice. My family comes first and my love for him is more important than life itself."
Nidia Bautista is a freelance journalist currently based in Mexico City.