On May 25th, 2013, people in over 400 cities on 6 continents participated in the International Day against Monsanto. Over the past six months people all across Mexico have been mobilizing to urge new president Peña-Nieto to not allow the introduction of GMO Crops to the country. In Mexico City, thousands of activists, farmers, academics and ordinary people participated in a Carnival against Monsanto.  Marching from the National Palace of Fine Arts to the Monument of the Revolution they celebrated the importance of native corn, the basic sustenance of the Mexican Diet and rejected the new GMO permissions granted to transnational agro-business companies.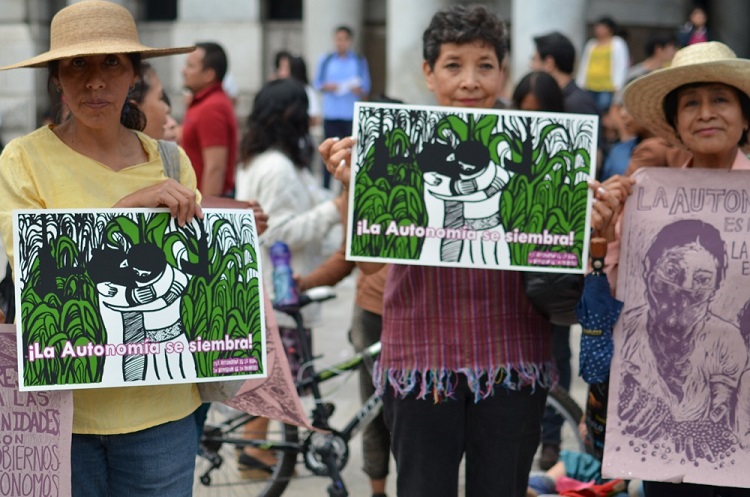 Autonomy is Sown! A nutrition group from the "Escuela de Cultura Popular de los Martires de '68" displays posters celebrating the autonomy of indigenous Zapatista communities for whom corn is an essential crop.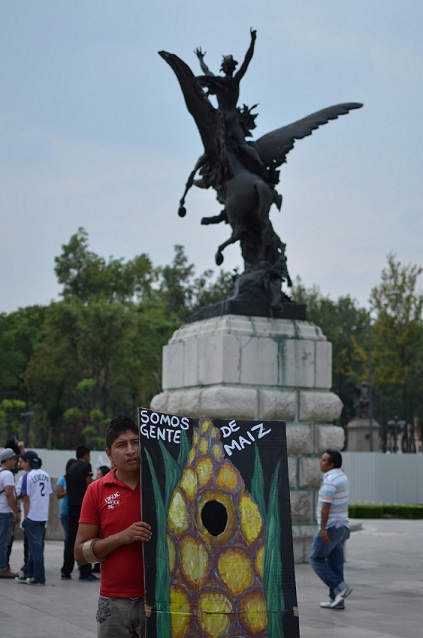 In front of the National Palace of Fine Parts a protestor declares "We are people of corn."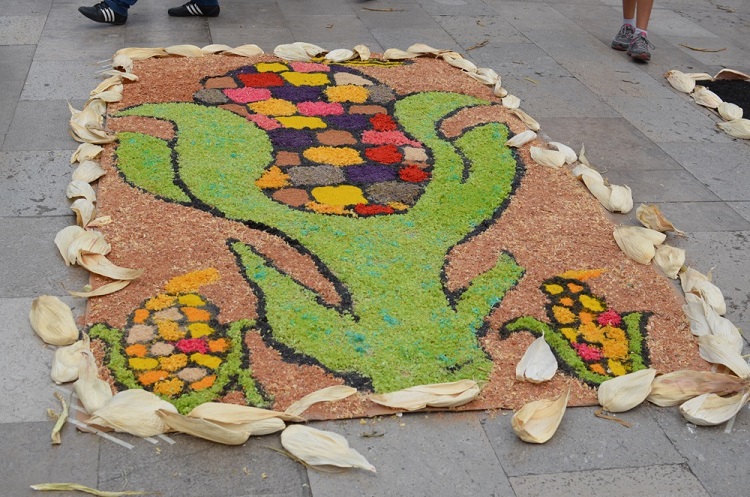 Street Art celebrating Mexico's staple food: Corn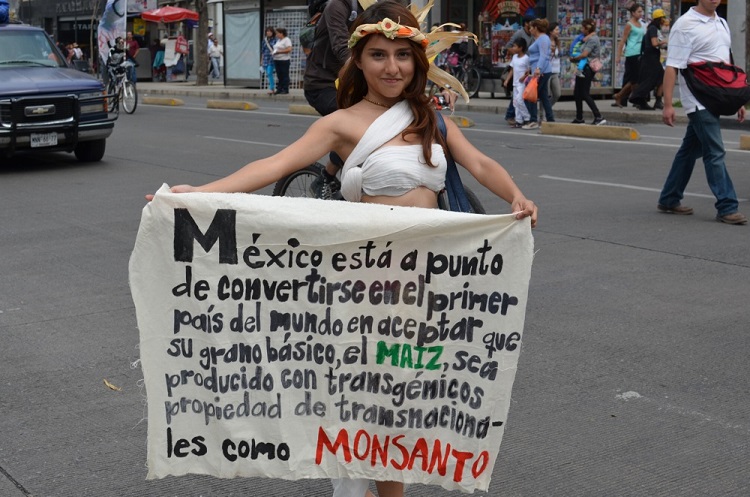 "Mexico is on the verge of becoming the first country to allow its basic grain, Corn, to be produced with GMO seeds that are the property of transnational companies like Monsanto."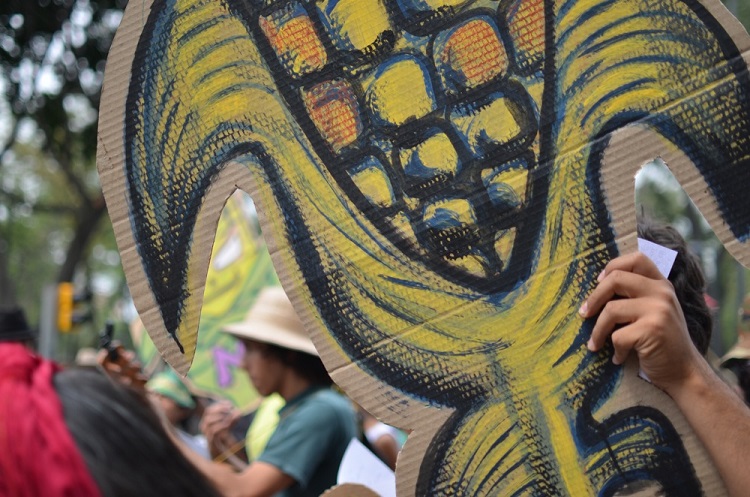 A group of "youth in resistance" celebrate native corn with live Son Jarocho music and colorful cardboard corn.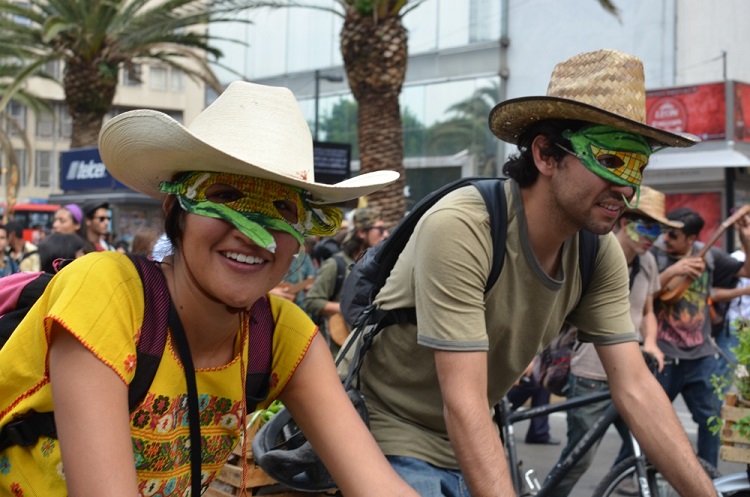 Urban Farmers transported their crops via bike emphasizing the importance of sustainable agriculture without GMO seeds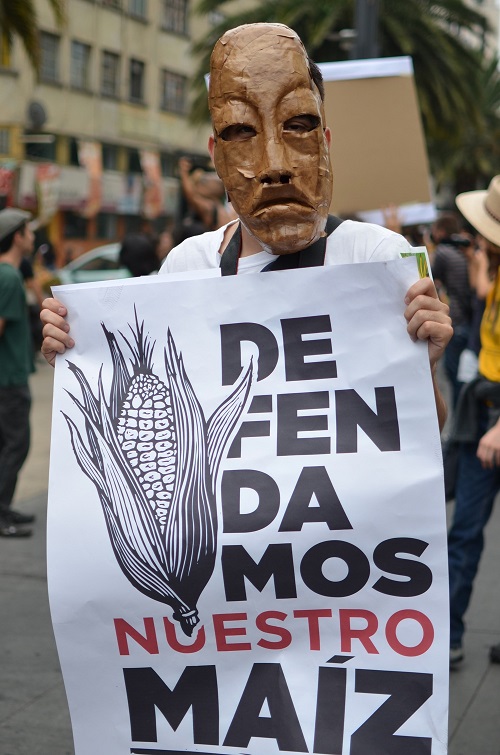 We will defend our corn!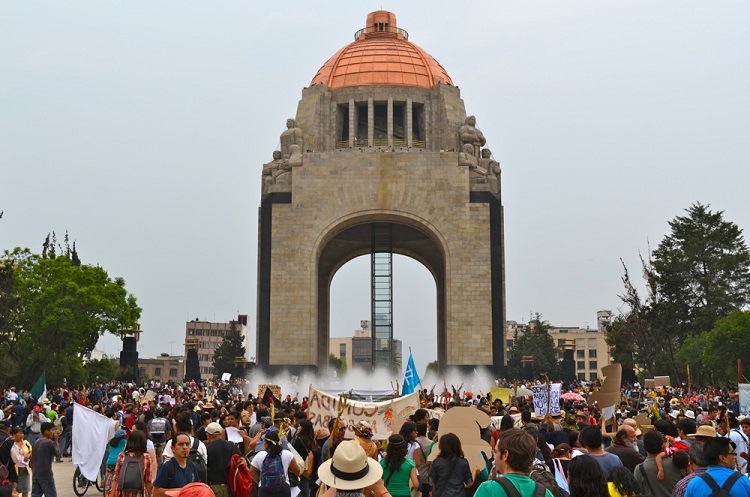 The thousands of protesters marched down principal avenues in Mexico City to arrive at The Monument of the Revolution.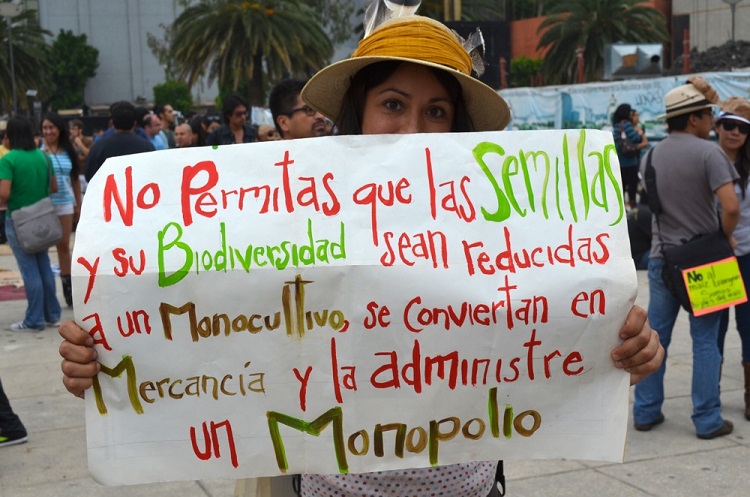 "Don't allow your seeds and biodiversity to be reduced to a monoculture that will converted into merchandise administered by a monopoly."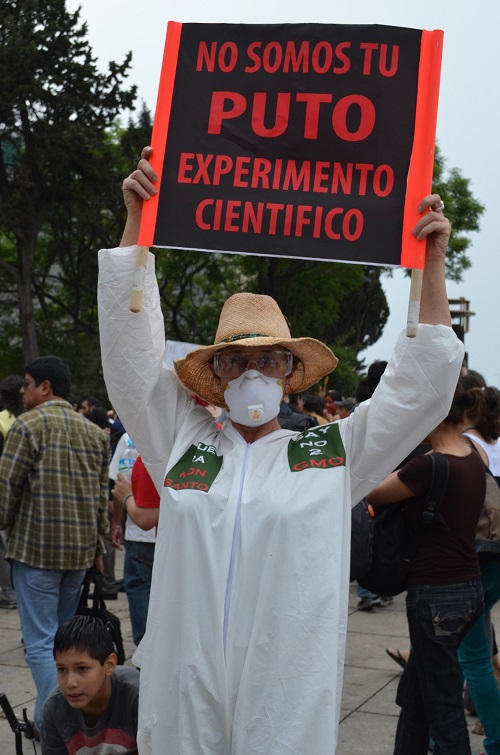 We are not your #$%$* science experiment. A genuine concern about the scientific effects of GMO crops was a common thread in protesters signs.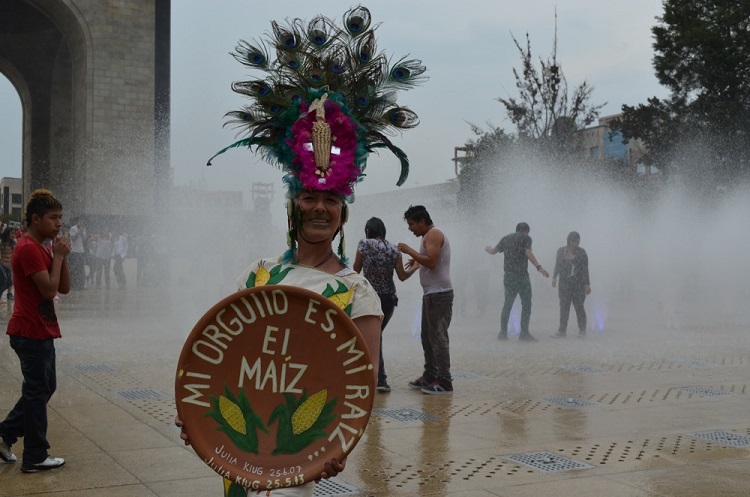 "My pride is my roots, my corn."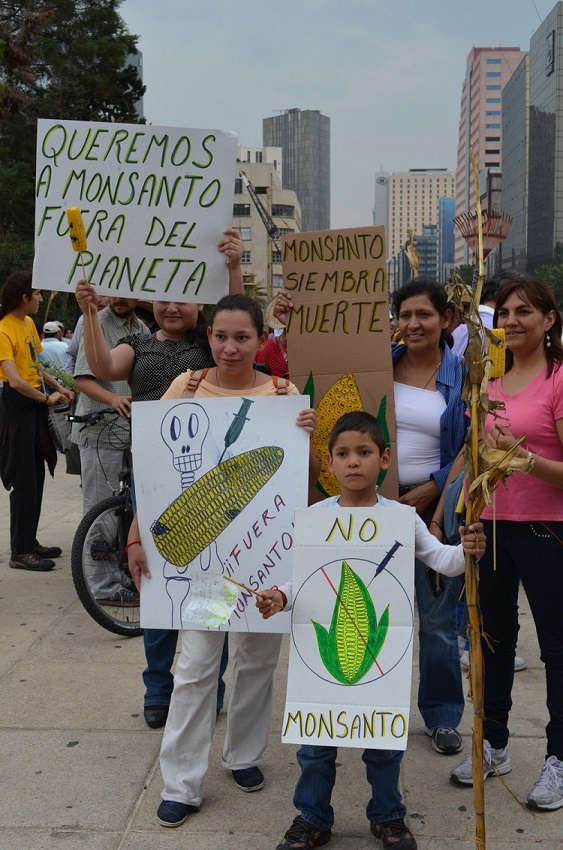 Protestors weren't just saying "not in my backyard" but instead stating that they want Monsanto kicked off the planet.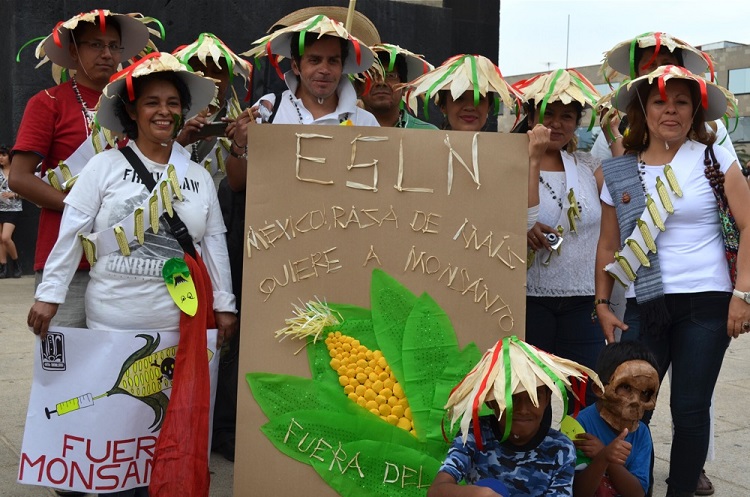 Corn husks usually serve as wrappers for one of Mexican's most popular street foods, tamales.  In the anti-Monsanto march husks served as adornment for all kinds of costumes.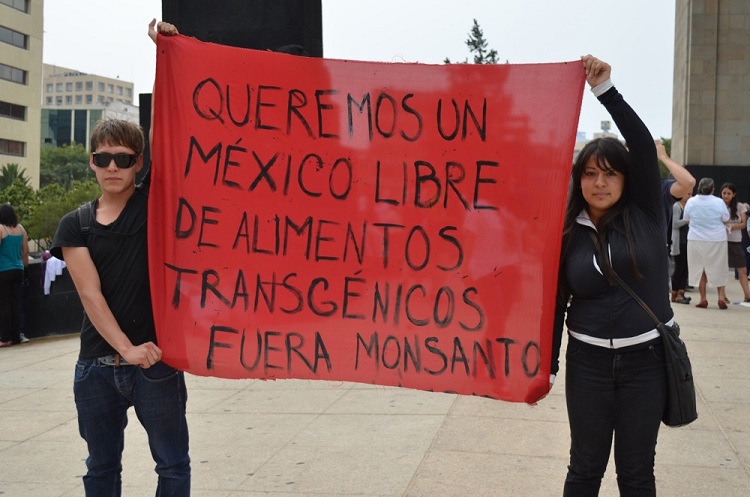 "We want a Mexico free of GMO food.  Leave Monsanto!"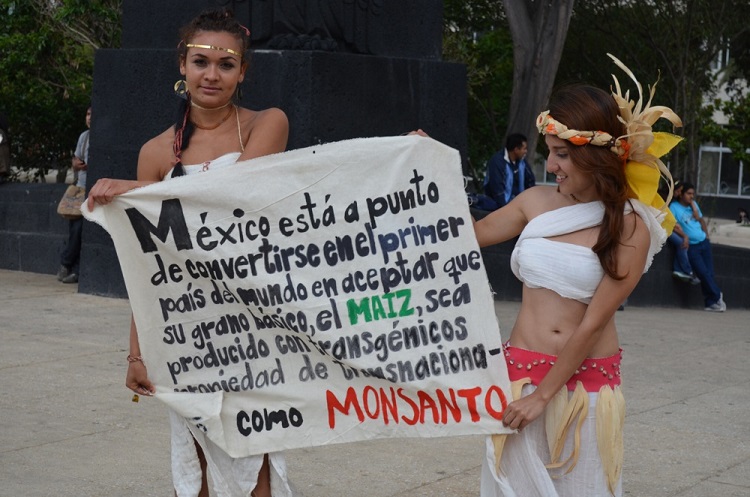 Protesters sport corn husks to emphasize the importance of native corn for the Mexican diet.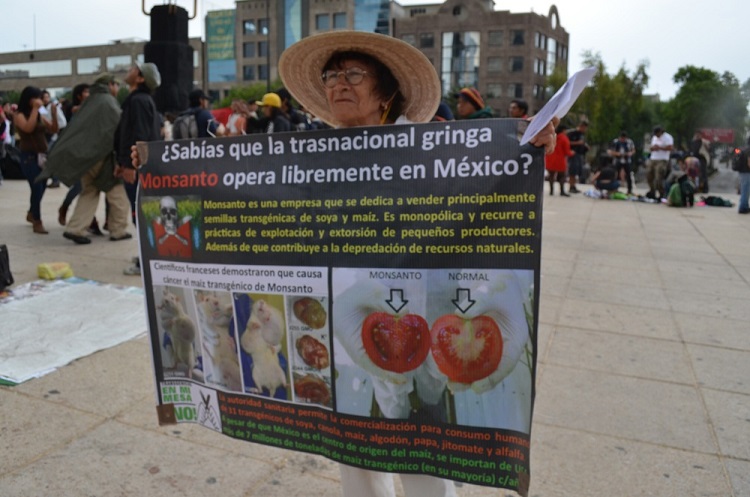 The protest against Monsanto was truly inter-generational with whole families participating from the youngest members to the oldest.
"Did you know that the 'gringa' Transnational company Monsanto will be able to freely operate in Mexico?   Look at how their seeds have affected lab rats. How will they affect us?"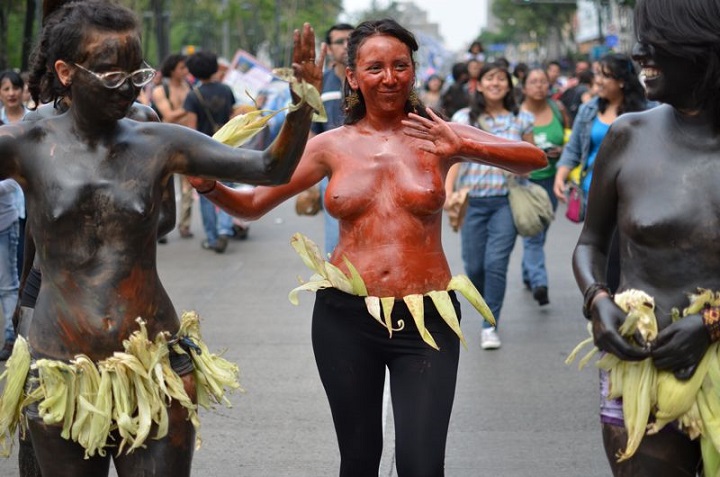 A group of enthusiastic dancers stripped down to the basics- Corn. Jubilantly celebrating the crop they took to the street in front of the Alameda.
Andalusia Knoll is a multimedia journalist, educator, organizer and print maker based in Mexico City. Her work has been featured by Free Speech Radio News, Democracy Now!, NACLA and teleSUR. For the past decade she has collaborated with independent media groups to highlight immigrant workers struggles, Latin American communities resistance to resource exploitation and U.S. movements against the prison industrial complex and deportation machine. You can follow her on twitter @Andalalucha or check out her tumblr http://andalalucha.tumblr.com/