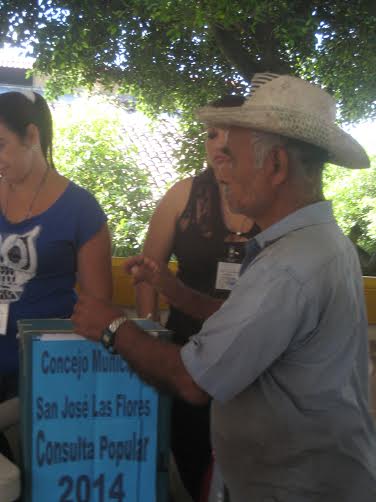 10 more communities poised to follow
After the all votes were counted on Sunday, September 21st, the municipality of San Jose Las Flores, El Salvador, in the Department of Chalantenango, became the first in the country to effectively ban metallic mining development through a legally binding community wide referendum. The Municipal Code of El Salvador allows for such community consultations, if 40 percent of eligible voters petition the local government. A measure can pass with the participation of 67 percent of eligible voters. In the municipality of San Jose Las Flores, 99 percent voted for the ban. At least ten other municipalities in Chalatenango have expressed their intention to follow suit.
As the metallic mining industry continues to escalate environmental destruction and human rights abuses around the globe, including in neighboring Honduras and Guatemala, the smallest country in Central America finds itself in a unique position to hold off the influx of transnational mining altogether. Currently, there are no mining operations in El Salvador and no companies that have been granted the permits to mine future projects. This denial has prompted two different companies to sue the national government, under both the Central American Free Trade Agreement and a national investor law, for anticipated lost profits. This includes the current, high profile $315 million Pacific Rim/Oceana Gold lawsuit, which is slated to be decided by the World Bank's ICSID arbitration tribunal within the next six months. Though El Salvador's current government has an effective administrative freeze on mining permits, an outright ban on mining has not yet been passed at the national level, despite ongoing efforts. This is a vacuum the organized community of San Jose Las Flores and others plan to fill.
Though El Salvador experienced metallic mining from the late 1800s through 1970, there have been no active operations since the brutal civil war, which took 75,000 lives. Over the past decade, however, transnational mining companies have turned their sights on El Salvador again, precipitated by the passage of a friendly mining law in 1995 and booming gold prices. Between 1998 and 2003, the Minister of Economy granted 29 exploration permits. Seventy permits are now pending.  For six years now, there has been a freeze on mining exploitation permits. A result credited directly to a concerted and effective campaign of education and resistance by the Salvadoran social movement, including the organized communities of Chalatenango.
The organized rural communities in the mountains of Chalatenango have a long history of resistance. This was one of the main guerrilla strongholds during the war, and was targeted heavily and brutally by the US backed Salvadoran army. In the 1980s, the inhabitants of whole areas had to flee to refugee camps in Honduras, to San Salvador, or the mountains. But while the war still raged, a number of communities organized to come back and resettle, with a conscious structuring around participatory democracy. This organized network of communities has continued since the repopulation. After this recent history, the bullish behavior of gold companies is not appreciated, all the more, and has been strongly resisted since their attempted incursion. In 2005, the Canadian company Au Martinque obtained  exploration permits and began activity in the Chalatenango area, including San Jose Las Flores, and other communities in the region.
"This is the land where we lost our friends and our families," said San Jose Las Flores Mayor José Felipe Tobar. "The specific site where the company wants to exploit gold here is the location of a massacre of 80 people in the community. That is priceless to us, because we have paid for that land with our blood."
Mayor Felipe Tobar said when Au Martinique first tried to come into the area, the community immediately began to inform themselves, contacting other communities and organizations dealing with mining and  its impacts. They visited sites in Honduras and Guatemala, and saw what became of the land, the water supply and the local people. San Jose Las Flores joined with others in an active education campaign in the area, giving presentations and showing a video on the effects of mining in Guatemala.
Though the company had acquired exploration licenses, no one would sell their land in San Jose Flores or neighboring communities, including San Isidrio Labrador and Carasque. The companies, however, entered anyway, planting their markers throughout the area, disturbing property and cutting fences, allowing cattle into areas where they destroyed crops. Members of San Jose Las Flores and neighboring communities responded with their own campaign of direct action. They removed company markers and blocked roads, disallowing mining company representatives and their equipment passage.
"We placed barricades on the streets and did not let their trucks bring equipment to the exploration sites", said community organizer Lisandro Monje. "And when they threatened to bring the army, we answered that we had experienced twelve years of war we were not afraid."
"I myself lost 24 members of my family during the war," said Mayor Filipe Tobar. "It is shameless that the companies are coming to us and telling us that they want to take our land. They try to trick us into selling it. But we cannot concede our territories, in memory of those who lost their lives, so that we can live here in our community as we are today."
The community consultation vote on September 21 is a test case. No community has exercised this section of the El Salvador's Municipal Code to date. But this vote against mining will not be the last. At least ten more communities have expressed plans to pass identical bans by the end of 2015.
"I want to encourage other municipal governments to  ban mining in their territories," stated Mayor Felipe Tobar, after the San Jose Las Flores vote, "and also encourage members of the legislative assembly to approve legislation to ban mining to ensure the long term sustainability of our environment."
Thanks to contributions from Pedro Cabezas.