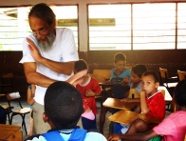 The conversation on care in US social movements has had me thinking about how we draw lines around what is and is not considered "movement," or "care," or "practice." My own perspective around this was expanded through interactions with Colombian activists who, in their struggles for fundamental rights – land, gender justice, environmental, and others – weave together strategies of resilience promotion to strengthen a community's ability to withstand physical and psychological strain, together with base-building, advocacy, direct action, and other strategies.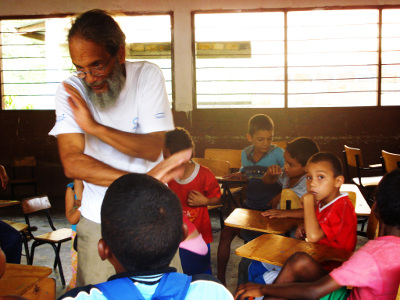 The conversation on care in US social movements has had me thinking about how we draw lines around what is and is not considered "movement," or "care," or "practice." My own perspective around this was expanded through interactions with Colombian activists who, in their struggles for fundamental rights – land, gender justice, environmental, and others – weave together strategies of resilience promotion to strengthen a community's ability to withstand physical and psychological strain, together with base-building, advocacy, direct action, and other strategies. The conditions on the ground are distinct; death threats, for instance, are routine for some organizers. Still, I think it's worth reflecting on the integration of emotional, mental, spiritual, and organizational wellness currently underway in South America.
Around four million people are currently displaced from their homes in Colombia, the vast majority indigenous people, campesinos (small farmers), and Afro-Colombians who make their living from the land – land valued for rich soils or resources that lie underneath. Resistance to forced displacement has been widespread, and communities looking to organize for justice and restitution must simultaneously recover from violent acts and defend themselves against new aggression, as they demand land titles and work for daily subsistence in hostile regions.
Rural activists working for justice have long counted as allies a handful of attorneys in urban areas, and even unarmed bodyguards from (mostly) Western countries who serve as volunteer "accompaniers" to deter attacks from armed groups. Less visible have been the teams of Colombian psychologists, social workers, and healing-centered laypeople who together bring a focus on mental and emotional well-being to solidarity work. (Important note: No doubt all Colombian ethnic groups have maintained wellness traditions that exist separate from those of the largely  mestizo urban activists who control most resources in Colombian movements. This article focuses solely on collectives based in Bogotá and trained in Western disciplines.)
Inspired in part by the work of Jesuit psychologist Ignacio Martín-Baró, who was murdered by Salvadoran death squads in the 1980s, several collectives currently provide what is variously described as liberation psychology or psychosocial attention to survivors of violence, torture, forced displacement, and forced recruitment into armed groups in indigenous, Afro-Colombian, and campesino communities. The people who provide this attention often see themselves as bringing but one of many necessary strategies to defend human rights and support autonomous peoples' movements. And running counter to almost all community psychology programs in the US, these collectives, which work almost exclusively with survivors of violence, use very little individual therapy. Their goals: Boost the resilience and existing strengths of whole communities to promote recovery and wellness, prevent future trauma, promote justice in the here-and-now, and reduce dependency on outsiders.
Although focused on mental, emotional, and spiritual health, and taking place in professional contexts, the trauma recovery and resiliency promotion these groups practice occurs in the context of grassroots movement-building. All of the people interviewed for this article emphasized their participation in the national coalition Movement for Victims of State Crimes (MOVICE), which has chapters in every Colombian department. Local and national mobilizations have called attention to state complicity at all levels of violence and impunity, and coalition leaders have exposed ties between government officials, paramilitaries, and resource-exploiting corporations. And local partners for the four national organizations profiled here (Justicia y Paz, AVRE, COPSICO and Cátedra) often participate in MOVICE chapters, in addition to other networks and coordinating bodies.
Wellness Organizing
"It's about making it possible for people to understand what happened to them, from what territories they're from, what their rights are. And more than anything to help them strengthen their organizations, knowing that only they can bring about resolution to their problems," said Hada Luz García Moreno formerly of Comisión Intereclesial de Justicia y Paz (Inter-Church Commission for Justice and Peace) and now of the COPSICO collective. "We contribute to a process of comprehension of the people around what happened to them, connecting acts of violence with the natural resources in their territories, the armed groups that are present and the 'development' plans the government has in mind. In this way we facilitate comprehension processes based in concrete realities and not in supernatural or mystical beliefs that justify human rights violations – for instance when it is believed that what's happened is because the population is getting 'payback' for a misdeed. People and organizations can vehemently exercise their rights, while strengthening their organizations, at the same time as they fight for the common good."
The work of organizations like Justicia y Paz, COPSICO, Taller de Vida, Corporación AVRE, and Cátedra Libre Ignacio Martín Baró, all based in Bogotá, varies widely: human rights education and legal support, trainings for resilience promotion, supporting the development of income-generating projects and theatre projects, week-long workshops on recovering collective memory and cultural traditions, and rituals drawing on expressive arts therapy.
Taller de Vida began in 1992 when two Afro-Colombian psychiatrists, sisters whose family was displaced from the state of Córdoba, accompanied 25 displaced families living behind the La Picota prison in Bogotá. As Stella explained, "We were all displaced from the violence of war to the violence of the city." Since then, they have set down roots in two neighborhoods, and have broadened from human rights training and trauma healing to wellness exercises, arts programs, and productive work projects with youth and adults. Like other groups, they rely largely on European foundations and development agencies for support, which has been sharply curtailed since the European financial crash began in 2009.
AVRE and Justicia y Paz were founded in the same era, responding to the humanitarian crisis created by early-1990s paramilitary violence. Although based in Bogotá, they accompany communities and organizations across the country, in many of areas with the highest concentrations of valuable natural resources, and the presence of Colombia's four armies – right-wing paramilitaries, narco-traffickers, Left guerrillas, and the state military. AVRE's focus is on building capacity for communities and organizations to deal with psychological trauma. Justicia y Paz has many areas of peace-building work with partner communities; their psychosocial collective is responsible for bringing attention to psychological and emotional wellness.
"The Only Place We Can be Displaced from is Our Own Bodies"
All of these psychosocial collectives work with communities where they are, be it a conflict zone or a camp far away from their original homes. Unlike many nonprofit employees in Bogotá, members of these collectives spend very little time behind a desk. AVRE workers are on the road every other week, and members of another capacity-building psicosociale collective, Cátedra Libre Ignacio Martín Baró, spend around 21 days a month in the field as a matter of policy.
These psicosociale (psychosocial) practitioners reach a mass populace uncommon outside of disaster relief work. In a recent two-year period, AVRE alone – with a paid staff of around two dozen professionals – worked directly with over 11,000 people through their integrative accompaniment and training programs.
Taller de Vida and Justicia y Paz practice permanent accompaniment, in which communities at risk of displacement or violence have an ongoing presence, and AVRE, COPSICO, and Cátedra place a high priority on building long-term relationships with communities they accompany. AVRE will assist communities they don't know in emergency situations, but not often. Taller de Vida has roots in two specific neighborhoods, and Justicia y Paz provides an ongoing physical presence in the communities at highest risk of violence.
For example, for over six years AVRE has accompanied the Campesino Association of the Cimitarra River Valley (ACVC in Spanish). The ACVC, which has thousands of members, many displaced several times over, has been waging a struggle for over a decade to have their river valley declared a natural reserve, off-limits to industrial exploitation, and many of its leaders have been assassinated and imprisoned by state authorities. AVRE workers are assigned to coordinate with leaders in the different zones of the valley, and propose work plans for strengthening resiliency – or the community's ability to "bounce back" quickly from traumatic events – through inter-generational committees, periodic workshops, and cultural rituals. Together they also develop training curricula for community leaders.
"Whenever we write a new curriculum, community members serve as our editors. They have the last word," said AVRE psychologist Constanza Acero.
Taller de Vida, in slight contrast, seeks to create transformative experiences for their members, like the "Mountain Climb Challenge" (borrowed from Paulo Coelho). Youth members are led to a nearby mountain, and are given eleven challenges – or questions – at stations along the path. "Most of our kids have never been asked, 'do you know where you want to go?'" explained Stella. They also exhibit youth artwork in a "Gallery of Resiliency," and study resilient community activists – from Afro-Colombian ancestors, to Anne Frank, and Rigoberta Menchú. All four groups employ metaphors in their therapeutic processes. Taller de Vida compares the youth they work with to bamboo, which bends to endure stress, and has a root system expert at decontaminating water – resilient like children, who eject stress from their bodies.
Psicosociales also offer support in developing revenue-earning projects to support self-sufficiency. Taller de Vida incorporates productive work as a key element, supporting youth and adult groups to produce crafts and cards, stained glass windows, and even recording and selling CDs. Through their arts workshops, they've nurtured several bands, including a rap group for middle-schoolers. "We're not really training artists, we're training human beings who can change the country," said Carlos Cortés who, like virtually everyone on staff at Taller de Vida, arrived in Bogotá fleeing violence in his home state. These programs offer a potent alternative to joining armed groups; some of their youth members were forcibly recruited before finding Taller de Vida.
Likewise, the group's analysis extends beyond the state's responsibility toward ensuring the respect of human rights. Jenny, who's spent almost half her life with Taller de Vida, notes that "the kids love Vicente Fernández," a popular Mexican singer, "but many don't understand that he's a principal shareholder of CEMEX, which owns mines that are destroying their neighborhoods on the hillsides." This deepening analysis is evident in the lyrics of a Taller teenaged rap group, whose young emcees rhyme about the lucrative exploits of armed gangs in the neighborhood, and the multiple forms of violence targeting young women.
Sometimes the work in community bends toward restorative justice, as Constanza with AVRE shared: "In San Carlos, Santander, we noticed the group of displaced families divided in two. One turned out to be the victim's family, the other that of the persecutor, and the church pastor thought the best way to get to reconciliation would be to bring them together. So we helped them create a space for each family to express what they needed." In the state of Cauca, AVRE worked with a group working to stop the CIMA Corporation from privatizing water resources. It was right after a massacre, "and so a few of us worked with the large group, talking about what produces fear in us, what do we do when we're afraid, and how those responses help us, and a few others worked in individual therapy with a man who was tortured, a woman whose son was killed, and others still reeling from the violence."
With AVRE and other groups, as the relationship with partner organizations and communities evolves, permanent committees of women, youth, elders, and others are often formed. "In some communities, for instance, there's a rupture between the older generation and youth, and we often try to include youth in our trainings as health promoters. In one community, the youth came up with their own work plan after a training and we helped them find resources they needed to implement it," according to Constanza.
All psicosociales stress the different approaches taken depending on the community. Facilitated reflection is given a high priority, as needs may evolve over time, and threats, tensions, and even successes must be reflected upon by the community as a whole.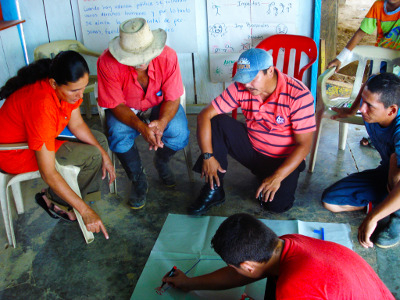 Training to Multiply
Some psicosocial practitioners see themselves as "popular therapists," inspired by popular education, and focus especially on multiplying the number of people that can be trained as lay practitioners of psychological wellness promotion.
"We start from the root 'psycho-', of recovering experience and understanding the context of community life," said Hada Luz. "Socio-political violence impacts our lives and it's worth articulating the effects on our emotional well-being."
Workshops with this goal of recovering from traumatic experience by articulating its effects are often designed for up to several dozen community members to participate, with many activities taking place in smaller groups. AVRE emphasizes drawing support from others in reenacting trauma, often using expressive arts and sometimes psychodrama. Participants are asked to focus both on telling the story of the traumatic event and expressing the feelings they experienced. AVRE also encourages reflection on how community members responded in the moment and afterwards, and draws attention to the supportive practices already in use in the community towards trauma recovery.
AVRE and Justicia y Paz both train psychological wellness and resiliency promoters to provide atención psicosocial year-round. They begin by identifying community leaders and members who want to work for the care of the whole community, and community organizations, and engage them in long-term leadership development.
Training topics can include how to approach a survivor, conducting therapeutic interviews, techniques for expressing pain and hurt using art, conscious breathing, and massages designed to bring about harmony and relaxation. All three groups support participants to claim the collective memory of their communities, and to recognize even the positive changes of living through trauma, echoing the emerging field of Post-Traumatic Growth research. AVRE distributes simple, colorful curricula that participants can cut out into numbered facilitator prompts, ready to use for leading workshops.
Many workshops and facilitated rituals culminate in an act of creation and memory. These include building houses of memory, using photos and objects of community members who have been disappeared or assassinated, or a "tree of life," in which stones painted with the names of victims are placed around living trees.
In Medellín, AVRE invited a social justice theater troupe, Arlequín y los Juglares, to help a partner organization develop a play representing their political and emotional struggle, and provided a workshop on bodywork with the families of disappeared trade union leaders in Barrancabermeja. "Through those methods the people talk about resources and how each of us resists. Rape survivors, for instance, have a ton of resources they draw on, including knowledge of human rights," said Constanza from AVRE.
Not about Experts – Resourcefulness as Resilience
Although rooted in and led by professionals with psychiatric and psychological training, all four groups insist that the psychosocial approach is not about expert knowledge – to bring tools and boost resources doesn't require any specialized training. "We're systemic in our approach, but we incorporate whatever works," said Constanza. AVRE's respect for displaced people is evident in their vocabulary, having discarded the word "client" for the more peer-based relationship of "consultant." Illustrating the integrative nature of the work, Justicia y Paz has a reporter on staff, "because it's important to support people to tell their stories, and to know they're being heard," according to Hada Luz. AVRE has also had communication specialists, anthropologists, social workers and attorneys as team members.
Lawyers and other legal professionals help complete their "integrative accompaniment," and supporting communities to file official denouncements and seek justice for atrocities is a key strategy. Several noted that just as expressing pain and suffering is important, seeking justice and giving voice to outrage through official channels can be equally therapeutic. They pay careful attention, too, to the possibility of re-traumatization inherent to that process.
Many groups also make use of bodywork, including identifying how emotional harm shows in physical symptoms, and use techniques from Gestalt therapy and sociodrama. Most organizations also integrate a wellness understanding in their internal work, as trauma exposure is unavoidable. Hada Luz explained: "As a staff collective we take advantage of mystical elements. By that, I mean the power of each of us to express what we're feeling. We use candle-lighting rituals, we sing; all of this generates more trust in the face of what can be a cold and anguished environment. We make sure to call attention to the feeling we carry in our bodies, to how our families are doing, etc."
Likewise, AVRE pays part of the co-pay for its workers to get personal therapy and other healing services, including group coaching, and have one week off every six months for mental and emotional health. And they also make play a requirement. "Everyone, down to the office security guard, we all go on extreme sports trips together," said Constanza.
Despite the commitment to internal sustainability, resources have been in shorter supply in the last three years; some groups interviewed have lost 40 percent of their funding. Many other funds now are being allocated only for state functionaries.
"More and more of our work is now being taken over by state agencies, who are co-opting our language and talking about 'integrative accompaniment' and using 'healing rituals'," explained COPSICO's Hada Luz. "It's difficult, obviously, because the armed forces are a principal perpetrator of rights violations, and most crimes go unsolved."
COPSICO's founders are looking for new ways to sustain their work. They're offering consultation to human rights attorneys on working with survivors, and consult with large agencies to develop healthy work environments. "It's not just about self-care, it's about creating an environment of care. We try to bring in non-verbal elements, like floral essences, harmonizing massages, body work, in general, that offers an allusion to our wholeness as human beings," said Hada Luz.
As another way of subsidizing their human rights work, COPSICO's two staff, both psychologists, are taking on therapy clients and also offer psychological consultation services to companies and nonprofits, in addition to their search for resources as an organization. They also collaborate with attorneys and others accompanying rural movements to jointly look for grants. In planning for the future, they're thinking about how to avoid relying on international funders and state agencies. "A collective of human rights attorneys we know has purchased a parking lot as a way of generating income," said Hada Luz.
My Questions
Reflecting on this has brought up a number of questions for me about my own work with organizations:
· What wellness practices are in our comfort zone? What about on the edge of that zone? Which seem hopelessly irrelevant, "woo-woo" or "out there"?
· What are the planned or unplanned rituals that sustain us in good times?
· Are there others we can adapt from our cultural traditions to meet needs we've identified or support more goodness to emerge?
· How do we make time to bring our wellness practices into conscious awareness as an organization? As movements?
· What themes surface regularly for us around stress?
· How can we boost organizational resourcefulness as a way to stave off "crisis" around access to resources?
More Resources
(English)
on Taller de Vida
http://madreblogs.typepad.com/mymadre/colombia-child-soldiers/
(Spanish)
Rituals for Reflection by Cátedra Libre Ignacio Martín Baró
http://www.catedralibremartinbaro.org/html/rituales.php
Article about the collaboration between the ACVC & AVRE
http://www.prensarural.org/spip/spip.php?article4207
COPSICO (Colectivo Psicosocial Colombiano)
Taller de Vida
http://www.tallerdevida.org/tallerdv.html
AVRE
http://www.corporacionavre.org/
Andrew Willis Garcés is based in Austin, Texas and facilitates groups, helps develop campaign strategy and also works as a mental health counselor. A trainer with Training for Change/Talleristas por la Justicia, he writes at www.porvida.org and at Plan to Thrive http://thrive.plantowin.net.au a collaborative blog project to encourage and support the health and well-being of people and groups engaged in working for social and ecological justice.
Thanks to Andréa Schmidt, Carmen Andrea Rivera, Griffin HY and the people interviewed in this article for editing help and critical feedback.