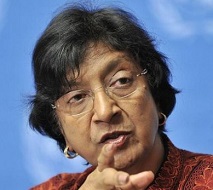 The Colombian army killed Marta Díaz's son Douglas in 2006, dressed him in combat fatigues and reported him as a FARC guerrilla killed in a shootout. Díaz searched for him everywhere, in prisons, hospitals and morgues, until she finally managed to track down his remains in 2008.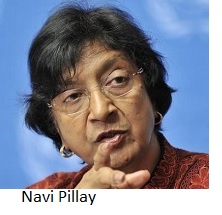 (IPS) – The Colombian army killed Marta Díaz's son Douglas in 2006, dressed him in combat fatigues and reported him as a FARC guerrilla killed in a shootout. Díaz searched for him everywhere, in prisons, hospitals and morgues, until she finally managed to track down his remains in 2008.
Douglas was just another "false positive" – the euphemism used in this South American country to describe army killings of young civilians passed off as guerrilla casualties.
Since then, Díaz, an activist with the Movement of Victims of State Crimes (MOVICE), has helped hundreds of other mothers who have lost their sons.
"Last year I received 27 death threats. And there have been seven so far this year," she told IPS.
On Wednesday, Díaz was at the Centre for Memory, Peace and Reconciliation in Bogotá, established by the city government to promote debate and actions to document what is happening in Colombia's decades-long civil war.
Seven human rights umbrella groups representing more than 400 organisations met this week with United Nations High Commissioner for Human Rights Navi Pillay and Anders Kompass, her director of field operations and technical cooperation.
Many victims like Díaz were in the packed auditorium. Pillay and Kompass heard more than 100 three-minute speeches.
Closing the office
Colombian President Juan Manuel Santos announced Tuesday that he would close the Colombia office of the Office of the United Nations High Commissioner for Human Rights (OHCHR).
Díaz said the fact that the announcement was made just when Pillay was starting a four-day visit to Colombia indicated that it was aimed at "confounding her and all of us human rights defenders, to get us all to fight to prevent the OHCHR from pulling out."
The strategy was to divert attention from denunciations of human rights violations, which would be overshadowed by the news, Díaz said.
"It surprised me as much as it did the rest of you," Pillay said on Wednesday, referring to the president's announcement.
"We don't need a U.N. human rights office in our country anymore," Santos stated in an address given in Bogotá, which reached Pillay when she was in Santander de Quilichao, in the war-torn southwestern province of Cauca.
Pillay travelled to Cauca to meet for several hours with leaders of black, indigenous and rural communities who had plenty to say about the need for multilateral bodies to continue monitoring human rights in this country.
The OHCHR office in Colombia opened in 1997, and each renewal of its mandate has been preceded by a quiet diplomatic tug-of-war.
The authorities' dislike of the U.N. office peaked after the May 2002 massacre in the village of Bojayá, where 119 people were killed and 98 injured after villagers took refuge in the church.
Shortly before they fled, the leftwing FARC (Revolutionary Armed Forces of Colombia), who were lobbing homemade mortars at far-right paramilitary fighters who had set up camp behind the church, hit the building with a gas cylinder bomb that veered off course.
Kompass, the OHCHR representative in Colombia at the time, went on a mission to the village of Bojayá, on the Atrato river in northwestern Chocó province.
In his report, Kompass said all of the armed parties to the conflict had to answer for the massacre: the FARC guerrillas, who bombed the church; the paramilitary United Self-Defence Forces of Colombia (AUC) – since demobilised in talks with the government – which had occupied the village; and the state itself.
The government of then-President Andrés Pastrana (1998-2002) criticised the report, and the army's Fourth Brigade said it did not "share unfounded versions which are aimed at showing possible ties between the army and navy and the illegal (paramilitary) self-defence groups."
From Geneva, then-U.N. High Commissioner for Human Rights Mary Robinson intervened in support of Kompass.
But on Jun. 14, 2002, Kompass's mission in Colombia was abruptly cut short. His removal was the condition set by the government to keep the OHCHR office open.
Kompass is now the person who names the directors of the OHCHR country offices. For example, he designated Todd Howland to head the Colombia office, who at the start was seen by activists as too quiet.
But on Jul. 10, Howland issued a harshly worded report on what happened during protests by peasant farmers in Catatumbo, an impoverished area in northeast Colombia on the border with Venezuela.
The peasants in Catatumbo, who have been protesting for over a month, are demanding that the area be declared a "peasant reserve" and that a scheme be adopted that would allow them, in an organised manner, to stop producing coca – their main livelihood in the isolated, roadless area — and switch to alternative crops.
But no progress has been made towards an official declaration of the peasant reserve, and the government instead ordered the eradication of coca crops by force in June. The crackdown on the protests has left four dead and 15 injured.
Howland reported grave violations of economic, social and cultural rights in the Catatumbo region. He also said that during the crackdown on the protests shots were fired from high-powered rifles that are usually used by the security forces, which indicated "excessive use of force" against the demonstrators.
High-level Colombian officials accused the OHCHR office of exceeding its mandate, just a few days ahead of the second visit to the country by Pillay, who before being named to her current post served as a judge on the International Criminal Court, which has Colombia under observation.
Body count scandal
Pillay's first visit was in October 2008, when the "false positives" scandal broke out, involving the killings of at least 1,416 people by the security forces as a result of the "body count" system. This army strategy used incentives like weekend passes, cash bonuses, promotions and trips abroad to reward soldiers and officers for "results" in the counterinsurgency effort.
The bodies of the victims, some of whom were lured from poor neighbourhoods by false job promises and then killed, were presented as guerrillas killed in combat.
Although extrajudicial executions have been committed for over three decades in Colombia, the statistics show that the number of "false positives" shot up during the government of rightwing President Álvaro Uribe (2002-2010).
According to Javier Giraldo, the priest who directs the human rights and political violence data bank of the Jesuit Centre for Popular Research and Education (CINEP), it is "very worrisome that the peak in false positives killings occurred from 2006 to 2008 – just when President Santos served as defence minister."
Santos was defence minister from July 2006 to May 2009. The CINEP data bank documented 918 "false positives" between 2006 and 2008.
Reports of killings of this kind dropped to 18 a year in 2009 and 2010, before increasing to 85 in 2011 and falling again to 52 in 2012.
Santos claims that he worked to put an end to the practice when he was defence minister. "We changed the doctrine," he said on Thursday – thus acknowledging that there was a specific "body count" strategy.
But according to the president, "the country's need for a United Nations Human Rights Office…has gradually disappeared.
"I'm going to tell (Pillay) that we are discussing whether extending the mandate is really worth it. Or, if it is extended, it would be for a very short time, because Colombia has made enough progress to say: 'We don't need any more United Nations human rights offices in our country'," he added.
Various U.N. sources, as well as international affairs expert Laura Gil, have been telling IPS over the last three years that the government was hoping to close down the U.N. office.
The sources said Santos wanted to shed Colombia's reputation of having the worst humanitarian crisis in the Western hemisphere, in order to request admission to the Organisation for Economic Cooperation and Development (OECD), the 34-member-strong nations club, which aims to sets high human rights standards.
They explained that being under OHCHR monitoring was not compatible with membership in the OECD.