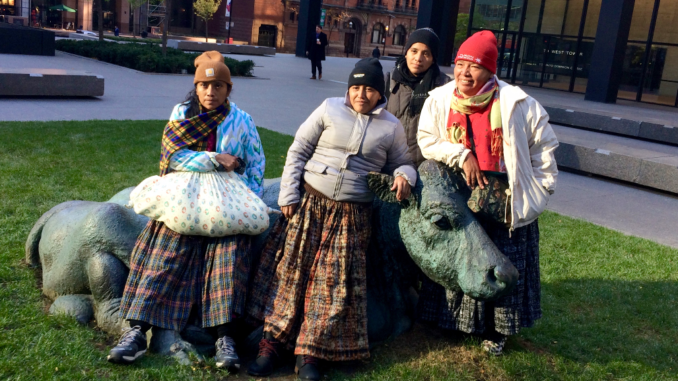 Elena Choc Quib, a unilingual Q'eqchi' speaker from a remote village in rural Guatemala, never imagined travelling outside her country, let alone boarding a plane to Toronto. But everything changed when she and 10 other women were gang raped during a violent eviction more than a decade ago, allegedly on behalf of a formerly Canadian-owned nickel mine.
Source: ricochet
In early 2007, hundreds of military, police, and private security personnel stormed Choc Quib's community, Lote Ocho, and raped the women while the men in the subsistence farming community tended their fields. State and private forces had attempted to force the Indigenous peasants from their land days earlier, burning several homes.
Paralyzed by shame, the women did not initially report the rapes. Now, they are spearheading a landmark case in Ontario court against Toronto-based mining giant Hudbay Minerals that's sending shockwaves through Canada's entire mining industry.
Seeking justice
Seated in the cozy den of a Toronto home during her trip to be cross-examined by Hudbay's lawyers, Choc Quib explained that seeking justice for her rape means confronting a trauma that haunts the mother of 12 and grandmother to this day.
She spoke her Mayan language, Q'eqchi', and Angelica Choc — a plaintiff in another case against Hudbay over the murder of her husband, Adolfo Ich — translated to Spanish. Faint clapping sounds drifted in from the kitchen, where Choc Quib's fellow plaintiffs, Carmelina Caal Ical and Amalia Cac Tiul, made tortillas.
"Seeking the respect the company should have for us in our territories is just," Choc Quib said.
"But the details of what happened — I can't talk about that. Because remembering all that destroys me."
She spoke calmly. But after she fell silent for Choc to translate, she wiped a tear before pressing her bright blue cardigan firmly into her eyes, covering her face.
---
"This company never respected us or our rights as Indigenous peoples in our community," she said, avoiding the details. "The search for justice hurts because what was inflicted on me will never leave me."
---
According to the civil lawsuit, Choc Quib and 10 other survivors were physically assaulted and raped on Jan. 17, 2007 by several police, military and uniformed private security guards working with the Fenix nickel mine, then owned by Vancouver-based Skye Resources and operated by its subsidiary, Compañía Guatemalteca de Níquel. Hudbay Minerals acquired Skye Resources and its main asset, the Fenix Nickel Project, in 2008. It later sold the Fenix mine to Cyprus-based Solway Investment Group in 2011.
Powerless take on the powerful
Shivering in the 6 C weather with her traditional Mayan skirt sharply contrasting with the austere highrises, Choc Quib's half-toothless smile brightened her face before she headed into the TD Tower in the heart of Toronto's financial district to be questioned by Hudbay's lawyers on Nov. 8, 2017.
When she later recounted the experience of facing the attorneys, she was moved to tears —as she is every time she digs up the memory of her rape. But she stressed that her quest is one of truth telling and that she draws courage from exposing the injustices she suffered.
"This company never respected us or our rights as Indigenous peoples in our community," she said, avoiding the details. "The search for justice hurts because what was inflicted on me will never leave me."
The lawsuit, filed in 2011, argues that the women suffered serious physical and psychological harm due to Sky Resources' negligence, a liability that Hudbay acquired along with the Fenix mine, located in El Estor on the banks of Izabal Lake.
Hudbay argues the allegations are "untrue." Asked if the company had knowledge of the controversy around the mine at the time of the acquisition, corporate communications director Scott Brubacher said by email, "Hudbay was aware there was some opposition to the Fenix mine, though the majority of the local communities were supportive."
In 2006, the UN International Labour Organization found that the licence for mining exploration had been granted to Skye Resources in 2004 without adequate community consultation. The original concession to Skye Resources' predecessor, the Canadian company INCO, was born in civil war–era dealings.
"A lawyer poised to represent 11 Guatemalan women in a Canadian court says his clients are eager to 'tell their story' in their lawsuit against #HudBay Minerals, the Toronto-based mining company named in an alleged 2007 gang rape in #Guatemala." @CTVNews https://t.co/xbCsc0ckCc pic.twitter.com/CFARnXavb5

— LAWG (@LAWGaction) December 21, 2017
Wrangling and delays
Between the 11 plaintiffs, the suit claims a total of about $68 million in damages. An Ontario court gave the case the green light in 2013. According to Cory Wanless, a lawyer at Klippensteins law firm representing the plaintiffs, the case likely is still a few years away from going to trial.
Rights Action, the human rights organization accompanying the plaintiffs, has accused Hudbay of deliberately delaying the trial with procedural wrangling. Hudbay rejected the claim.
Wanless said such delays are typical when one side's resources dwarf those of the opposing side. He added, though, that despite being years into the process, when litigation fatigue can often set in, the emotional resolve among the plaintiffs has only deepened.
"That's rare and remarkable," he said. "And it's a real source of strength."
Wanless argued that even though the case has yet to go before a judge, it has already made history in setting a powerful legal precedent.
"[The plaintiffs] have shown by doing this that it is possible to sue Canadian mining companies in Canada for human rights abuses committed abroad," he said, noting that the plaintiffs would not have had access to a fair trial in Guatemala. "That is sending strong signals to all other mining companies and their executives."
Resisting displacement
In spite of the case's progress, Angelica Choc said communities have faced ongoing rights violations. In the case of the 11 women, Rights Action has documented regular threats, attacks, and other forms of intimidation, allegedly linked to the Fenix mine.
---
"I have a voice. I am an indigenous woman, and I am strong, and I am worthy of this."
---
Choc said even after generations of protecting their land and resources, Mayan communities continue to resist displacement by corporate interests. Guatemala's deep inequality and enduring land disputes are part of the legacy of the country's bloody 36-year civil war and the U.S.-backed military dictatorship's genocidal campaign against Indigenous peasants.
"We hope [Canada] doesn't treat us like the company has treated us in our land, massacring our communities, murdering our leaders, abusing women," Choc said, choking up. Her lawsuit alleges that security personnel working for the Fenix mine slashed with a machete and gunned down her husband, community leader Adolfo Ich, in 2009.
"Why do they do that to us? Only to rob the riches of our lands," she continued. Beside her, Choc Quib, hearing the anguish is Choc's voice, placed a hand over tearful eyes.
Canadian mining companies boast a notorious record in Latin America and elsewhere. A 2016 report by the Justice and Corporate Accountability Project at York University's Osgoode Hall Law School documented 44 deaths and hundreds of injuries and cases of "criminalization" linked to 28 Canadian mining companies in several countries over the course of 15 years. Guatemala was the most fatal, with 12 deaths linked to four Canadian-owned mining projects, including the Fenix mine, between 2000 and 2015.
The authors noted that the corroborated cases in the report were likely only the tip of the iceberg.
Systemic change needed
After years of criticism of toothless corporate social responsibility guidelines, including from five United Nations agencies since 2002, the Canadian government announced Jan. 17 the creation of a new office to investigate alleged abuses by mining companies and other Canadian corporations abroad. Some advocacy groups celebrated the news as a win after efforts to pressure Ottawa to tighten regulation holding the industry accountable on home soil for abuses committed overseas.
Wanless cautioned that the new Canadian Ombudsperson for Responsible Enterprise, which will not be empowered to impose sanctions, should not be seen as a substitute for recourse through the courts. He hopes the office will explicitly encourage litigation, saying it would be a "tragedy" if companies leveraged the new office to avoid lawsuits.
Canada Has Second-Worst #Mining Record in World: UN https://t.co/wHdbhvSHJe #bcpoli #cdnpoli #alaska #Tailings #disaster pic.twitter.com/jduPIJokXI

— DeSmog Canada (@DeSmogCanada) November 2, 2017
Rights Action director Grahame Russell, a non-practising lawyer, argued the ombudsperson will fall short of providing binding legal accountability. He stressed that although increasing attention to the problem is a step in the right direction, civil and criminal sanctions for companies and compensation for victims must be part of spurring systemic change in the industry.
"These lawsuits are the best case scenario for access to justice for victims of global corporate criminality, repression and corruption," said Russell, adding that even in these precedent-setting cases, wealth and power disparities still give corporations the upper hand.
Despite the challenges, Choc Quib remains resolute, saying she must share her story in the name of uncovering the truth and demanding justice.
"I have a voice. I am an indigenous woman, and I am strong, and I am worthy of this," she said, sighing deeply. "I am a woman and I am worthy of this."
Heather Gies is a freelance journalist who writes about human rights, resource conflicts, and politics in Latin America.
Reprinted with permission.