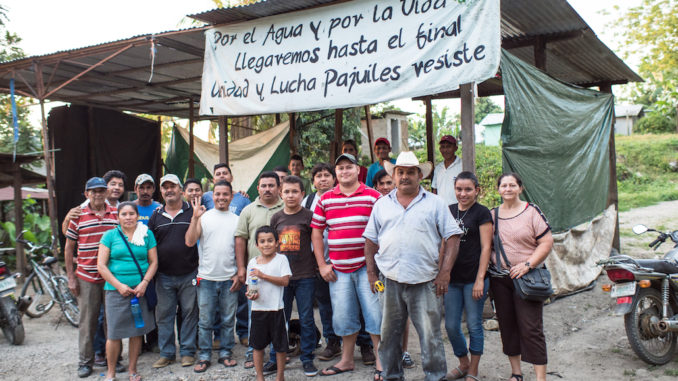 A day after a Honduran judge dismissed charges of land invasion against 10 people from Pajuiles, at least 300 soldiers and police surrounded the small community near the North Coast of Honduras early Thursday morning in a show of force while guarding the company behind a controversial hydroelectric dam in the region.
Truckloads of state security as well as agents on foot arrived in the community around 5:30 a.m. local time accompanying president and CEO of the hydroelectric company Hidrocep, Jason Hawit. Community members said Hawit, who is also named as the General Manager of Baprosa, a rice production company in the neighboring department of Yoro, left the area around 6:00 p.m., but that military agents were still present well into the night.
"The company came completely guarded — five police trucks in front and five behind,"  a witness who spoke on the condition of anonymity told Upside Down World. "It was like a war."
The witness reported that the scores of state security included U.S. funded and trained TIGRES, as well as an "exaggerated presence" of officers from the Police Directorate of Investigations (DPI) and COBRA special operations unit. Police and military fired tear gas in a way that appeared to target prominent community leaders and took photos in an apparent attempt to intimidate local residents, the witness added.
For over a year, community members have denounced state violence and criminalization targeting their peaceful resistance to the Hidrocep project.
"We are completely militarized right now," said Oscar Martinez, a community member who has faced criminal charges for being outspoken about the project. "The company's equipment came through with the help of the National Police."
Sigue la presencia policial y militar en la comunidad de Pajuiles en Tela, Atlántida. Las fuerzas represoras del Estado llegaron hasta la zona donde se localiza el campamento de resistencia en contra de la represa que está construyendo el empresario Jason Hawit dueño de Hidrocep. pic.twitter.com/9qMxulyqOL

— José Peraza (@PerazaJp) May 4, 2018
Heavy equipment, including bulldozers, to be used to build the hydroelectric dam, was ushered through the community Thursday as police and military stood guard. Pajuiles has long expressed opposition to the project, raising concerns that the dam will destroy its only source of potable water. Community members report that part of the forest has already been destroyed in the first phase of the construction, fueling concerns about environmental destruction and its consequences for local residents.
During Thursday's police and military incursion, DPI officers detained local resident Gustavo Norberto Lopez Melgar after he filmed video footage of the state security surrounding the community. Police took Lopez to a police station in Tela before releasing him later the same afternoon.
This isn't the first time that Hidrocep has used state security to gain entry to the community. Last August, the Office of the United Nations High Commissioner for Human Rights (OHCHR) condemned the excessive and indiscriminate use of state force, including tear gas, in Pajuiles. Five people, including a pregnant woman and a minor, were detained and several were charged by police.
Violence in Pajuiles
Since March 2017, the community of Pajuiles, with the support of the Broad Movement for Dignity and Justice (MADJ), has been blocking Hidrocep from entering the community in an attempt to stop further development of a hydroelectric dam along the Mezapa River in the Gracias a Dios mountain range.  Last August, military and police used tear gas against community members to allow company vehicles and heavy equipment through to begin working on the dam project.
Members of the "Dignified Camp for Water and Life" at the entrance to the community repeatedly have suffered violent attacks and criminalization at the hands of state security forces, which have targeted the environmental defenders.
On Jan. 23, uniformed police agents reportedly dragged Geovany Dias, a resident of Pajuiles and a member of the MADJ, out of his home, beat him, and shot him 40 times before throwing him on the side of the road. His murder came just days before the inauguration of President Juan Orlando Hernandez, elected for a second term amid widespread cries of fraud.
Latinas in Resistence Across Borders with @WitnessforPeace. Singer Activist Karla Lara, performing to bring attention to struggle in Pajuiles, Honduras pic.twitter.com/aupfVr2zC9

— Rep. Keith Ellison (@keithellison) May 5, 2018
No charges have been laid in Dias' murder or for attacks against other members of MADJ who have been assaulted, killed, or forced to leave their homes since the November 2017 elections. Marred by allegations of vote rigging and controversy around Hernandez' bid for a second term despite a constitutional ban on presidential re-election, the election lurched Honduras into its worst political crisis since the 2009 U.S.-backed coup.
Last month, Carlos Hernandez, a lawyer in Tela was murdered in his office. Hernandez was the lawyer for the mayor of Arizona, an hour away from Pajuiles in the same department, who was accused, along with 4 other community members of usurpation. The charges are related to another camp near the Jilmatio River has also been peacefully protesting a hydro-electric project for close to a year.
On March 8, the Inter-American Commission for Human Rights (IACHR) granted precautionary measures to the community of Pajuiles after MADJ and the Centre for Justice and International Law (CEJIL) filed a petition was filed on their behalf by MADJ . In its resolution, IACHR noted the high risk the lack of safe drinking water due to the dam construction poses to the communities. The commission ordered the government to ensure both access to potable water and an investigation into the violence which led to the precautionary measure being ordered in the first place.
Michel Forst, the Special Rapporteur for Situation of Human Rights Defenders, arrived in Honduras for a week-long visit on May 2 and will present his initial findings on May 11 in Tegucigalpa.
A March 2018 OHCHR report noted Honduras has seen a surge in "threats and intimidation against journalists, media workers, and social and political activists … in the context of a political, economic and social crisis, which can be traced back to the 2009 military coup d'état and significant delays to undertake critical institutional, political, economic and social reforms."
Jackie McVicar has worked accompanying human rights and land defenders and survivors of the Guatemalan genocide for the past 14 years. Recently, she traveled to Honduras as part of an international emergency faith delegation. She currently works with United for Mining Justice and is a member of the Atlantic Region Solidarity Network.