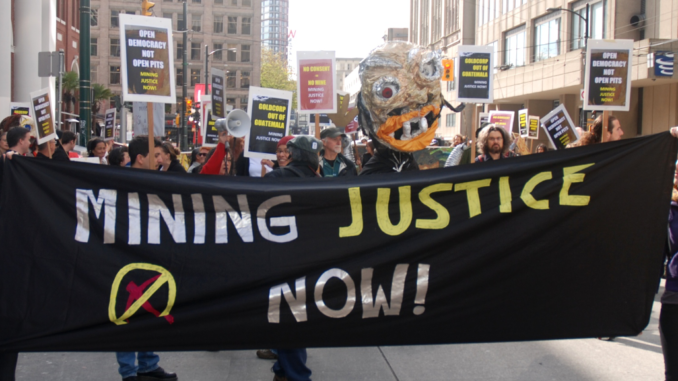 Some things in Canada never change, like how the mining industry gets away with murder in Latin America.
On Thursday, Colombian human rights activist and union lawyer Francisco Ramirez Cuellar was called to speak with Canadian Parliamentarians. But this wasn't his first time speaking to Canadian lawmakers; he has been to Canada more than half a dozen times in the last 17 years to denounce Canadian mining operations that have caused serious harm in his country. He gave his testimony to the Subcommittee on International Human Rights of the Standing Committee on Foreign Affairs and International Development (SDIR) regarding the human rights situation surrounding natural resource extraction within Latin America, the final day of problematic hearings on the topic which started a month ago.
Like Ramirez Cuellar, dozens of members of affected communities, Indigenous peoples, and grassroots organizations from Latin America have come to Canada to denounced violence and threats near Canadian mines in the past two decades. None — other than Ramirez Cuellar — were called by the SDIR to testify in the context of the hearings which began in September, questioning the actual motives behind the hearings.
At the same time, 16 other witnesses have appeared before the SDIR, notably two members of the Mining Association of Canada and another from the Prospectors and Developers Association of Canada. Other so-called experts have been called to testify in the exclusive hearings, including two representatives of the Organization for Economic Cooperation and Development who talked up the complaints office that administers the National Contact Point for the OECD Guidelines – an office that has failed to prevent or remedy human rights abuses by Canadian companies operating overseas since its inception in 2000.
---
Dozens of members of affected communities, Indigenous peoples, and grassroots organizations from Latin America have come to Canada to denounced violence and threats near Canadian mines in the past two decades.
---
Canada's current Corporate Social Responsibility (CSR) Counsellor's Office was also called to testify before the SDIR, along with four other witnesses from Global Affairs Canada, despite being publicly called out in May 2017 for claiming it resolved a serious conflict between Canada's Aura Minerals and Honduran communities that have faced tremendous threats and legal persecution for refusing to allow the company to dig up a gravesite to extract  the minerals below. The CSR Counsellor's Office was also signalled out by Indigenous Maya Mam community members during his visit to Guatemala in 2016 for its approach, as well as the role of the Canadian government, in promoting Goldcorp's Marlin Mine in the Guatemala Highlands without first obtaining Free, Prior and Informed Consent, as outlined by ILO 169 which was ratified and adopted by Guatemala. None of these stories were heard by the SDIR, as no representatives from Honduras or Guatemala were asked to share their perspectives. The absence of key witnesses in the hearings has undermined the credibility of the process, and the utility of the outcome.
By teleconference, Ramirez Cuellar, representing the Colombian National Movement of Victims of Multinationals, was given 10 minutes to outline the labour situation at the Gran Colombia Gold mine in the Segovia-Antioquia region of Colombia, a mine that was expropriated by the State and given to the Canadian company from Colombian workers who had been given the property as part of a severance. He outlined the role of the former Canadian International Development Agency (CIDA) in the past 30 years and how it worked with powerful economic elites, the mining and energy sector, and paramilitaries to create legislation in favor of companies exploiting natural resources. He described how changes in labour conditions lead to variable contracts, no overtime, deregulation of industrial safety controls, and repression and firing of employees who tried to form labour unions. He also outlined how changes, pushed by CIDA, were made to mining, gas and environmental laws to benefit former Liberal Prime Minister Paul Martin whose family went from paying 15 percent to 0.4 percent in taxes for shipping Colombian coal from Canadian-owned mines to Canada.
In his testimony, Ramirez Cuellar also talked about how small, artisan miners are being displaced from areas where they have been mining for years. He mentioned how the free trade agreement between Colombia and Canada, implemented in 2011, is being used by Canadian mining company Gran Colombia Gold to sue the Colombian government for  USD$700 million for not providing "operational guarantees" and security in the area against illegally armed groups, while workers of the same Canadian-owned company claim that the company itself is paying these groups.
The grim situation that Ramirez Cuellar outlined is only part of a larger trend throughout the region involving Canadian-owned mining companies. In October 2016, the Justice and Accountability Project, a volunteer-driven transnational, collaborative, community-based legal clinic based out of Osgoode Hall Law School at York University, published a report called "The Canada Brand: Violence and Canadian Mining Companies in Latin America." It documented 15 years of violence, including 30 targeted deaths and over 700 cases of criminalization, and showed the magnitude of the harms and the proximity of the incidents to Canadian mining companies. Members of the JCAP were called by the SDIR to give their testimony on the last day of the hearings, along with Ramirez Cuellar.
Canadian Bishops press Trudeau for action on mining in Latin America https://t.co/qj9mwJevHJ @MmmSwan pic.twitter.com/gljZITwK74

— Pax Christi Int'l (@PaxChristi) September 7, 2017
After a month of SDIR hearings with no participation of communities directly impacted, nor adequate participation from Canadian experts critical of CSR policies and knowledgeable about its international human rights obligations, it is impossible to see how this is anything more than an exercise in bad faith. How can international human rights be properly understood and upheld without creating a space for those whose rights have been violated? The Canadian Network on Corporate Accountability, an organization that works to ensure that Canadian mining, oil and gas companies respect human rights and the environment when working abroad, reports that since the election of the Trudeau Government, "Canada has been advised by five U.N. bodies that its failure to regulate, investigate and ensure access to remedy for harms associated with Canadian mining, oil and gas operations overseas is inconsistent with its international obligations."
The 2016 Annual Report of the Special Rapporteur on the Situation of Human Rights Defenders reports that most of the violations suffered by environmental and human rights defenders around the globe are linked to the extractive sector. The U.N. Special Representative on Business and Human Rights also identified the extractive​​​​​​​ sector as having the greatest business and human rights risks.
Despite the the numerous reports, studies, and recommendations by national and international bodies and impacted communities themselves, the Canadian government has failed to create an effective recourse for communities who suffer serious human rights abuses at the hands of Canadian mining companies working in Latin America. Francisco Ramirez Cuellar finished his presentation Thursday by inviting the Canadian parliamentarians to Colombia to evaluate the situations he described for themselves. He used his voice to not only demand accountability in Colombia, but called for changes in the way that Canadian bureaucrats, Canadian embassies, and multinational mining corporations based in Canada and operating globally behave.
The Canadian extractive sector working in Latin America is a significant part of the hurdle toward justice in the region. Two years after the election of the Trudeau government, little has been done to make real change or stand up for international human rights, while hearings without the involvement or voices of affected communities will do little to change that.
Jackie McVicar works with United for Mining Justice, a network of United Church of Canada folks and allies working for just extractive sector laws and practices and for local and national sovereign jurisdiction over mineral resources. She is a member of the Atlantic Region Solidarity Network and has worked closely with mining affected communities in Latin America for the past 15 years.