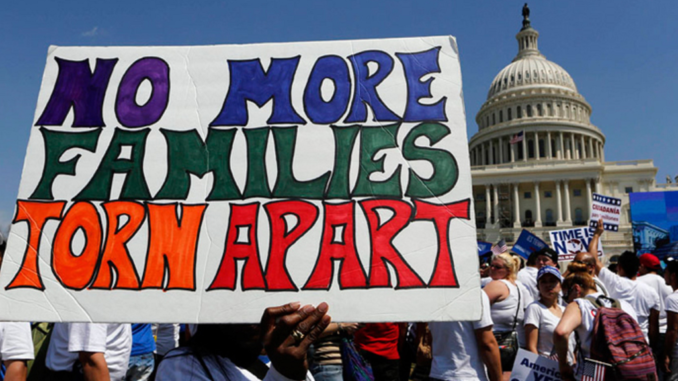 Source: Latino Rebels
For Rosa Cecilia Martínez, originally from El Congo, El Salvador, the elimination of the Temporary Protection Status (TPS) program would be devastating. Martinez migrated to Long Island in 1998 when she was 16 and received temporary legal protection from deportation under TPS in 2001. Now, the activist and mother of two may face deportation as the White House deliberates whether to renew the program that has given work visas to 300,000 people.
TPS is a provision in the Immigration Act of 1990 that gives worker visas to immigrants from 10 countries experiencing ongoing armed conflict and environmental disaster. Every 6 to 18 months, immigration officials determine whether TPS is extended for each country. Secretary of State Rex Tillerson said last week that the conditions in Central America and Haiti no longer justify the need for protections under TPS. The announcement comes before the administration is set to announce whether it will extend the program for Hondurans and Nicaraguans on Monday (UPDATE: The Department of Homeland Security made a Monday evening decision about TPS for Nicaragua but said it needed more time to explore a decision on Honduras), and Haitians on November 23.
Martínez is a member of a national alliance of organizations that has advocated for the renewal of TPS for all participating countries. Although an announcement about El Salvador isn't expected for another few weeks (January 8, 2018), she said she's uneasy as she awaits the announcement about TPS.
"An elimination would mean uncertainty. We would be unable to work and provide for our families. As a mother, I am concerned for my family's well-being," she said.
Amy Shannon —senior advisor for Alianza Americas, a regional network of Latin American and Caribbean immigrant organizations involved in negotiating for the decriminalization of migration in the region— said the elimination of TPS would affect more people than the recent termination of the Deferred Action for Childhood Arrivals (DACA) program.
---
"An elimination would mean uncertainty. We would be unable to work and provide for our families. As a mother, I am concerned for my family's well-being."
---
For Salvadorans, the largest TPS holders, and the elimination of the program would have significant consequences. Almost 200,000 Salvadorans can lose TPS status as compared to the 30,000 Salvadorans who have DACA, according to figures on the Department of Homeland Security's website.
Central American immigrants have had TPS longer than any other group. Immigrants from Honduras and Nicaragua were granted temporary protected status in 1999 as a result of Hurricane Mitch. In the case of El Salvador, the U.S. government granted people protections after an earthquake killed nearly 8,000 people in 2001.
Many hope the Trump administration will decide against eliminating TPS.  "People have been here for 25 years," Shannon said, "and for 25 years they have been working with a legal temporary visa. They've been getting working and they have 275,000 citizen children."
Norma Portos is an immigration lawyer who has worked with Salvadoran TPS holders living in New York. She said that there is a lot uncertainty, especially for those with little options to adjust their status and get permanent residency. People may gain permanent residency if they have married someone with citizenship or if they are sponsored by their employer. Under advanced parole, TPS holders that entered the country unlawfully but married U.S. citizens can go abroad and return to the country and be inspected by immigration officials and gain the option to adjust their status.
Unfortunately, not all TPS holders fall under this category. "Those that entered without inspection, have no kids and didn't marry a U.S. citizen, and never travelled, would be left with absolutely no options if it is eliminated," said Portos.
To our #TPS brothers and sisters: what do we want? #TPS
When do you want it? NOW!#OurNY pic.twitter.com/dOARvPTzmX

— NYIC (@thenyic) November 6, 2017
Although TPS is renewed on a regular basis, the administration's approach to restrict protections from deportations have made TPS-holders nervous said Portos. "About 800,000 people were affected by the rescinding of DACA," said Portos, "Add the 300,000 people that may be affected by the possible elimination of TPS, and that's more than one million people affected by the government's recent decisions. They are being subjected to possible deportations."
For Martínez, the elimination of TPS would mean having to forcefully return to El Salvador. As a mother of a 17-year-old son and 11-year-old daughter, she said she would be forced to leave and take her two children with her.
"Although they were born here, we want to keep our children with us," she said. "But it would be a huge injustice to take them back to our countries. I think they have a right to stay where they were born."
Nidia Melissa Bautista is a journalist and graduate student at New York University. She's originally from Los Angeles and reports on gender, human rights and migration. 
Reprinted with permission.